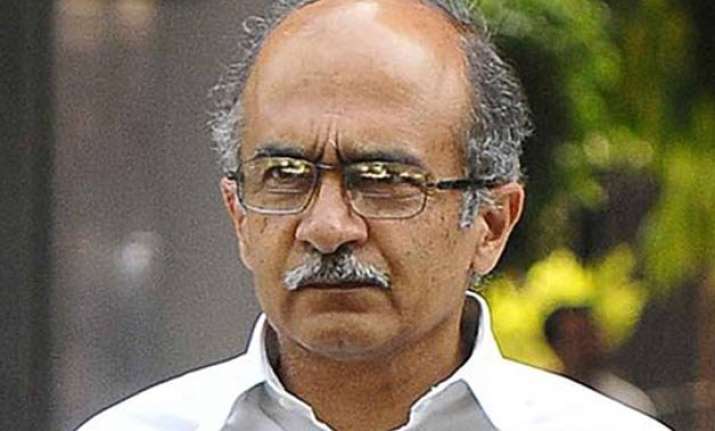 The rift within the Aam Aadmi Party (AAP) kept on widening when its national council, meeting amid extraordinary scenes of strife, expelled senior leaders Prashant Bhushan, Yogendra Yadav, Anand Kumar and Ajit Jha from its national executive for "anti-party activities".
Soon after their removal, Bhushan and Yadav mounted a scathing attack on AAP leader and chief minister Arvind Kejriwal, saying his "dictatorial tendencies" were instrumental in "the murder of democracy" by the council.
Prashant Bhushan said there are many options before him for the further course of action.
He said, "There are several options. One is to approach Election Commission or the High Court. Secondly, if the majority of the members of NC are opposed to the way this meeting was conducted then we can call another meeting of the Council."
"We can't go along with this kind of hooliganism and gundagardi. The third option would be to part ways. I mean, at most, they will use the name of the party and symbol. All these options are available to us," he added while speaking to The Economic Times.
Bhushan also did not rule out the option of his resignation from AAP and start a new party, if the majority of NC members agree to this.
Meanwhile, Yogendra Yadav did not comment on whether he would resign. "We did not script our moves like them. We haven't decided anything. I am shell shocked," he said.
Both Bhushan and Yogendra Yadav, who were ousted from AAP's National Executive yesterday, have alleged that the resolution passed during the NC meeting of the party was "rigged" and a "mockery of democracy".
Both of them also claimed that some of their dissenters were roughed up by outsiders. AAP MP from Patiala Dharamvir Gandhi backed their allegations.
On Saturday, AAP's secretary Pankaj Gupta clarified that the majority of NC i.e. 247 members passed a resolution to oust the four members – Bhushan, Yadav, Anand Kumar and Ajit Jha – from the national executive for "anti-party activities".
Out of the total, fifty four members abstained from voting and eight voted against their ouster.
However, AAP leader Sanjay Singh slammed the allegations made by the dissenting camp of people being roughed up at the meeting. He added that a video recording of the affair will endorse their version.
Party's senior leader Ashutosh tweeted yesterday, "YY/PB should respect the verdict of the highest decision making body of the party if they believe in internal democracy."