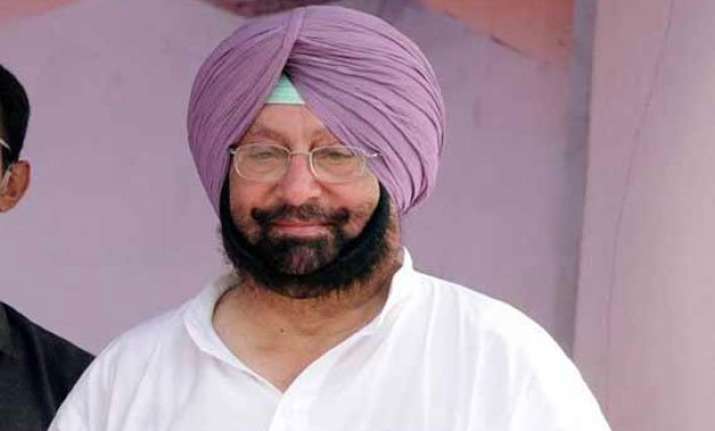 Dhuri (Punjab): Senior Congress leader Amarinder Singh today accused Punjab Chief Minister Parkash Singh Badal of trading off state's interests by giving "extra water" to Haryana to "please his masters" in Delhi.
He also charged Badal with betraying people of Punjab for his "own survival".
"Badal had already traded off state's interests by giving extra water to Haryana when Punjab did not have enough for itself, just to please his masters in Delhi," Amarinder Singh said.
He said while Badal was claiming not to spare a single drop of water for anyone, his government had already raised embankments of the Bhakra Main Line canal at Kanauhri to provide extra water to Haryana.
"Earlier he (Badal) accepted Rs 2 crores from Devi Lal in 1977 to construct SYL and now he has again accepted Rs 3 crores from Haryana government to raise embankments and give extra water to Haryana", he alleged.
Singh stated this while addressing election rallies in support of the Congress-Sanjha Morcha candidate Simarpartap Singh Barnala at various places including Dhadogal, Bhullar Heri, and Bhalwan.
Appealing people to elect Barnala, he said, it was important that Badal was made to suffer a political setback so that he stops putting his personal interests above the interests of the state.
"Otherwise as of now Badal's thinking starts and stops at his immediate family only", he said.  He also accused Badal family of amassing huge wealth in terms of hotel, transport and other businesses.
Referring to the scourge of drugs he said, there was hardly any village in Punjab that didn't have the problem of addiction.  "They have destroyed and devastated an entire generation in the state just to enrich themselves", he alleged.
Capt Amarinder lashed out at the BJP government at the Centre saying the Prime Minister Modi was yet to deliver on any of the great promises he made before elections.
Singh said that when Modi had come to Punjab in February 2014 he had promised that Punjabi farmers settled in Gujarat will not be harassed.
"But the BJP government there (in Gujarat) is yet to withdraw the appeal against the Gujarat High Court orders which favours the Punjabi farmers," he said, while condemning Badal's "silence" on the issue.