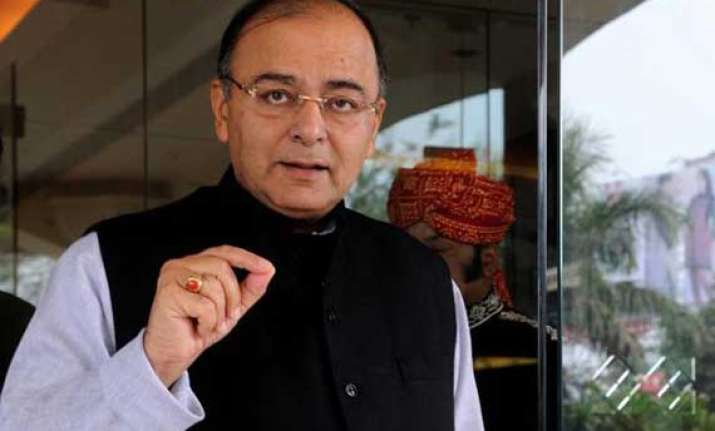 New Delhi: The UPA's flagship programme MNREGA was today allocated Rs 33,364 crore, with Narendra Modi Government expressing commitment to carrying it forward, ignoring suggestions including from within for scrapping it.  The amount is same as allocated in last financial year during the Manmohan Singh government.  In his budget speech, Finance Minister Arun Jaitley said, "The Government is committed to providing wage and self-employment opportunities in rural areas".  
He, however, said that wage employment would be provided under MNREGA through works that are more productive, asset creating and substantially linked to agriculture and allied activities.
BJP leader and Rajasthan Chief Minister Vasundhara Raje had written a letter to the Rural Development Minister Nitin Gadkari a few days ago suggesting MNREGA act should be converted into a scheme.
Opposing the suggestion, Congress had said yesterday that it would protest against any dilution of the MNREGA and Food Security Act, which are the world's biggest programmes of welfare, which have been started in the UPA rule.  Giving a big push to rural road scheme initiated during the NDA-I under the stewardship of Prime Minister Atal Behari Vajpayee, the Government has allocated the government has allocated a sum of Rs 14,389 crore for the next fiscal.  Hailing the Pradhan Mantri Gram Sadak Yojana (PMGSY), Jaitley said it has had a massive impact in improvement of access for rural population.
"It is time to reaffirm our commitment to a better and more energetic PMGSY under the dynamic leadership of Prime Minister Narendra Modi. I propose to provide a sum of Rs 14,389 crore," he said.
The government proposed to extend the provision of bank loan for women Self Help Groups at 4 per cent in another 100 districts under Ajeevika, the National Rural Livelihood Mission (NRLM).
Currently under this mission, Women SHGs are provided bank loans at 4 per cent on prompt repayment in 150 districts and at 7 per cent in all other districts.
The programme is aimed at eliminating rural poverty through sustainable livelihood options.