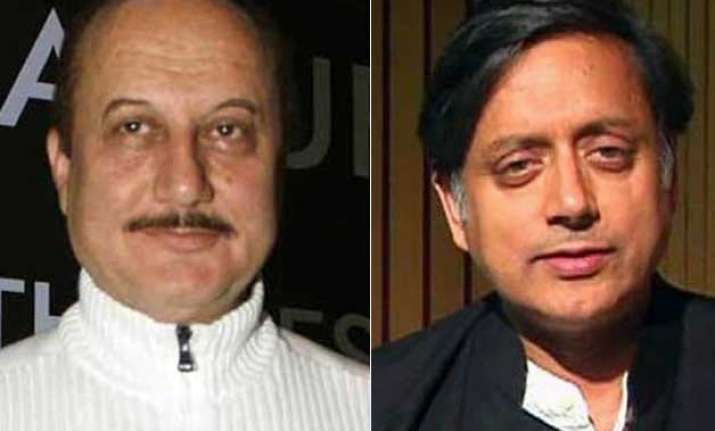 New Delhi: Veteran Actor Anupam Kher and Congress leader Shashi Tharoor were involved in a war of words on Twitter after the politician slammed Kher's comments that he is scared to openly say he is a Hindu.
Posting a link of Kher's recent TV interview, Tharoor tweeted on Saturday, "Come on Anupam. I say it all the time. I'm a proud Hindu. Just not the Sangh's kind of Hindu. @AnupamPkher."
This did not go down well with the 60-year-old actor, who called Tharoor a "Congi Chamcha" (Congress stooge). "Come on Shashi. Never thought you will misinterpret my statement like trolls do. And behave like a Congi Chamcha." Tharoor quickly retorted saying, "Abuse, @AnupamPkher , is what you use when you run out of arguments. I'm a proud MP of @INCIndia &I don't resort to insults. #CongiChamcha." Quoting 59-year-old Tharoor's tweet, Kher replied, "Sadly, you forgot that you brought in your kind of Hindu & Sanghi Hindu first. You want to categorize that also?"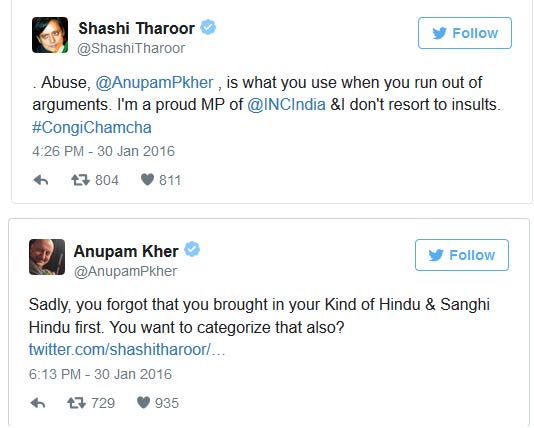 Kher had recently been trolled by Twitter users for his comments about awards which he had posted on the micro blogging site in 2010 in which he had dismissed the Padma honours as inauthentic. Netizens pointed out Kher's complete change of stance after he had been awarded the Padma Bhushan.
"AWARDS in our country have become a mockery of our system. There is NO authenticity left in any one of them. B it films, National or now PADMA (sic)," Kher had tweeted in 2010.
After the announcement, he tweeted, "Happy, Humbled & Honoured to share that i have been awarded The PADMA BHUSHAN by the Govt. of India. Greatest news of my life:) #JaiHind (sic)".