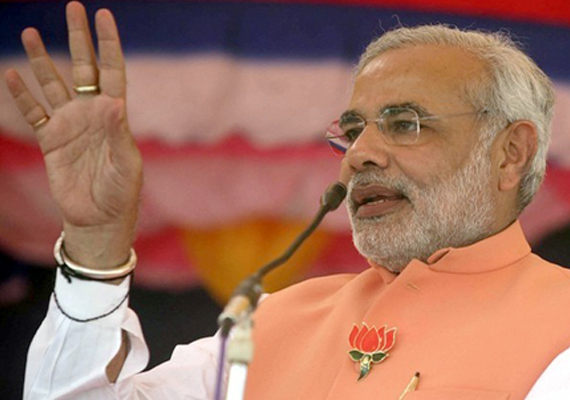 Ahmedabad, Aug 24: Gujarat chief minister Narendra Modi today protested blackout of his profile on Twitter and removed his photographs from the social networking site.
Modi said, he was doing this as a common man, because the freedom of the common man (aam aadmi) was being curbed.  
Modi has joined protests against the UPA government's clampdown on the internet by putting up a black image as the display picture on his Twitter handle.  
Modi tweeted, "As a common man, I join the protest against crackdown on freedom of speech! Have changed my DP. 'Sabko Sanmati De Bhagwan.'#GOIBlocks" is a topic trending on Twitter yesterday, criticising the central government's move to block over 300 web pages.
Modi's move comes at a time when there is a growing chorus online against the government's move to get a number of URLs and Twitter handles blocked on pretext of curbing hate comments in the context of Assam violence and exodus of Northeast people.
Modi was among the first few leaders to speak out against the government's actions in the face of impending danger to citizens from northeast India.  
Earlier, BJP had opposed the government's decision to block the Twitter handles of some pro-BJP journalists. 
BJP Maharashtra unit spokesperson Madhav Bhandari  said that India was facing  an "Emergency-like situation."
Bhandari said the government's driver to block URLs was a tool to silence those who were racing their voice against the Congress.  He called this move the "murder of liberty and right of free political speech."
Earlier in the day, the Twitter account of Milind Deora, the minister of state for communications and information technology, was suspended. It was not clear whether this happened due to some technical glitch, hacking or as part of the government's crackdown on social media, Times of India reported.
Another speculation doing the rounds is that the account may have been reported to Twitter as being a 'fake' or 'parody' account, leading to its suspension.
Deora told a  daily that his account was being verified, hence has been temporarily suspended.
On Thursday, Deora had defended the government's efforts to block hate content on the internet on the microblogging site.  
His comments received a lot of flak from netizens, with many terming it a 'lie'.