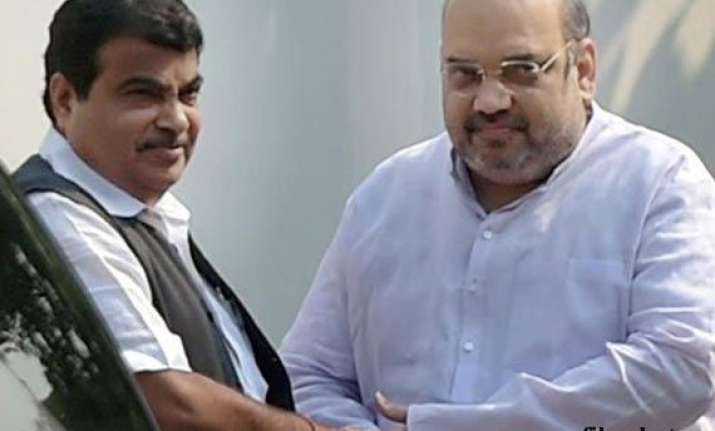 New Delhi: After their victory in Assembly polls in Haryana and Maharashtra, BJP today moved forward towards government formation in both states with party chief Amit Shah holding parleys with Union Minister Nitin Gadkari for charting out further strategy.
Shah spent some 45 minutes at Gadkari's residence and the two worked out their further strategy on government formation in Maharashtra where the party fell short of a majority. Top leaders are later likely to meet the Prime Minister. Gadkari hails from Maharashtra, has been a former BJP chief and also shares good ties with the RSS.
The two had a one-on-one meeting on joining hands again with its old ally Shiv Sena after its chief Udhhav Thackeray congratulated the Prime Minister and Shah yesterday.
The BJP is inclined to go with Sena once again after breaking its 25-year-old alliance with it over seat sharing ahead of the assembly polls.
Former party president and Union Minister Rajnath Singh, who has been appointed as the observer for the meeting of BJP Legislative Party in Maharashtra to elect their leader, will be leaving for Mumbai tonight. BJP's state unit chief Devendra Fadnavis leads the race for the party's Chief Ministerial candidate.
NCP sprang a surprise yesterday with its offer of "outside support" in the western state where the saffron party fell short of majority.
In Haryana, where the BJP has already got a majority of its own, the party's newly-elected MLAs will meet at Chandigarh tomorrow at noon to elect their leader, who is likely to be the chief ministerial candidate.
"The BJP Legislative Party in Haryana will meet tomorrow at 12 noon at UT State Guest House to elect its leader. BJP's former president Venkaiah Naidu will be the observer for the meeting," Jagdish Mukhi, BJP's incharge for Haryana said.
He said it will be up to the new MLAs to elect their leader and the name of the party's chief ministerial candidate will be decided tomorrow who is likely to take oath before Diwali. "We are hopeful of having a chief minister in place ahead of Diwali," he said.
Senior BJP leader and Karnal MLA Manohar Lal Khattar, who is also said to share close ties with RSS, leads the race for the top post in Haryana and is reportedly in Delhi for talks with senior leaders.
Yesterday, at a meeting of the BJP Parliamentary Board chaired by Prime Minister Narendra Modi, the party has decided to send central observers to Maharashtra and Haryana to elect a leader of the BJP Legislative Party in both the states.
While Home Minister Rajnath Singh will go to Maharashtra, Urban Development Minister Venkaiah Naidu will go to Haryana. Rajnath will be accompanied by party general secretary J P Nadda to Mumbai and party vice president Dinesh Sharma will accompany Venkaiah to Chandigarh.
Sources said BJP is not averse to taking back its old ally Shiv Sena in its government in Maharashtra. A consensus appears to have been reached on taking back the Shiv Sena in its fold to form a stable government in the state.
Insiders say the RSS also wants that all Hindutva forces should remain united for the long term.
The party, however, remained tight-lipped on its strategy for Maharashtra, where the Sharad Pawar-led NCP is more than keen to offer support to BJP.
BJP won 47 seats in Haryana out of the 90, while the party won 122 seats in Maharashtra in the 288-member state Assembly.