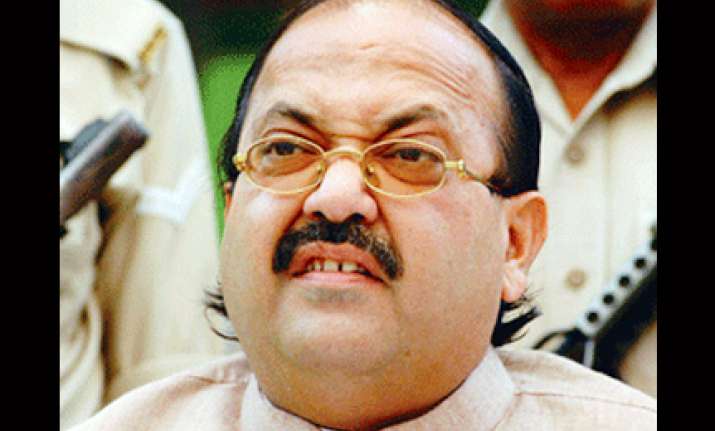 Senior Samajwadi Party leader Amar Singh and his wife have been booked for alleged financial fraud amounting to about Rs 500 crore, a charge he dismissed as "conjecture".
An FIR was lodged on Thursday at Babupurwa police station in Kanpur, accusing Singh and his wife of amalgamating companies allegedly owned or run by them for converting black money into white, Additional Director General of Police (Law and Order) Brij Lal told PTI in Lucknow.
The name of actor Amitabh Bachchan has also figured in the 14-page complaint as director of one of the companies, the ADG said.
The complaint alleged that between 2003 and 2008, Singh and his wife had amalgamated their companies with other holdings and had amassed nearly Rs 500 crore in the process, DIG (Kanpur) Neera Rawat said. The complainant has been identified as Shivakant Tripathi who runs a school in Kanpur and is associated with several social organisations there.
"The FIR has been lodged under various sections of IPC, Prevention of Corruption Act and Prevention of Money Laundering Act," the ADG said.
Reacting to the development, Singh said the allegations "are conjectures, which are never tangible.
"I have got nothing to hide. Everything is in public domain and on the Internet. These are public limited companies, which are audited by auditors. It is easy to bring charges against Amitabh Bachchan and myself, as this garners greater TRPs for television channels," he said.
The 53-year-old SP leader said Bachchan was implicated in the Barabanki land case too, but was later absolved of all charges.
The firms named in the FIR included Energy Development Company Limited, EDCL Power Limited, Pankaja Art and Credit Limited, Sarvottam Cap Ltd, EDCL Infrastructure Ltd and Eastern India Company, all owned or run by Singh and his wife.
"The complainant alleged that small utilities were amalgamated in these companies. For instance, he claimed that 25 companies were amalgamated in Sarvottam Cap Limited," ADG Brij Lal said.
Maintaining that he has no personal enmity with either Amar Singh or Bachchan, Tripathi alleged that the SP leader's assets crossed Rs 500 crore during 2003 to 2008 when he was the chairman of UP State Development Council.
He claimed that he gathered evidence running into 1500 pages against Singh from various sources including the SP leader's Income Tax returns and papers declaring assets in Calcutta and Allahabad High Courts.
Tripathi told PTI that he has no connection with any political party.
Meanwhile, Congress said the FIR filed against Singh seemed like a case of "political vendetta".
'I am not aware of the details of the case but what I have gathered is that it has been filed on a private complaint ... At the first look, it does look like a case of political vendetta," Digvijay Singh, AICC general secretary told reporters in Delhi.
Singh said the administration in UP had been very quick in lodging the complaint against Amar Singh and others on receiving the complaint. He said there was an agency to probe money laundering cases at the Centre and the case against Amar Singh should have come to this agency. The Congress leader wondered how the UP police could probe the case.