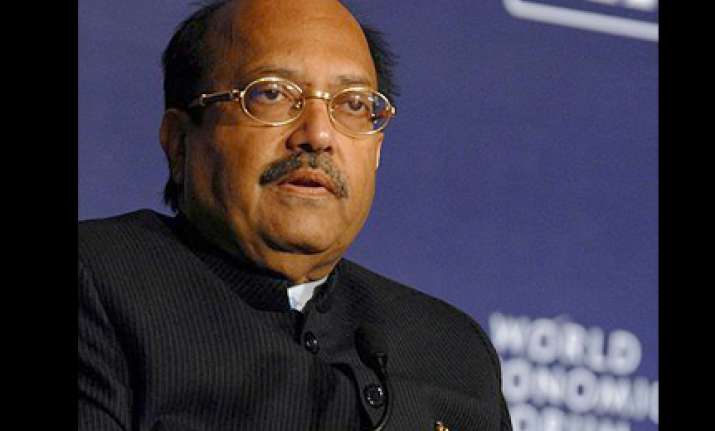 Alleging that UP Chief Minister Mayawati has been victimising him, SP leader Amar Singh on monday said he would provide all details of his shares in various companies and dared her to take action against him.
"I will send Mayawati all details of my share-holdings in various comapnies whether it is Mukesh Ambani's company, or Infosys, NTPC or ONGC. She can lodge criminal FIRs against all of them in Babupurwa police station (Kanpur)," Singh told reporters in  Lucknow.
 An FIR had been lodged against Singh, his wife Pankaja and actor Amitabh Bachchan in Babupurwa last week for misappropriation of funds.
"I demand from Mayawati that either she should resign or take action against the officers responsible for lodging a fake FIR against me at Babupurwa police station in Kanpur district," he told reporters. 
Referring to allegation against him that he had siphoned off funds through merger of companies, Singh said the merger questioned in the FIR was approved by the Company Law Board, Income Tax Department and the Kolkata High Court.
"Mayawati is corporate illiterate," he alleged.
"I have no hitch in admitting that before entering politics, I was a businessman and it was my profession. After entering the politics, I tendered my resignation as director from the board of all companies as it was almost impossible to manage the affairs due to full time political involvements," he said.
Singh, who met Governor B L Joshi, said he had demanded that an inquiry should be ordered into the conspiracy being hatched to defame and malign him.
Singh said increase in share-capital with mutual consent of different companies and share-holders, and mergers with consent of jurisdiction of High Court concerned was a legal process.
He gave examples of Mukesh Ambani acquiring Rs 15,000 crore worth of shares in his own company and Infosys Chief Mentor Narayan Murthy withdrawing Rs 200 crore from his company for promoting venture capitalists.
"Is Mayawati above Income Tax department, the union government's Company Affairs Ministry or the High Court where such a deal is registered?" he asked. PTI