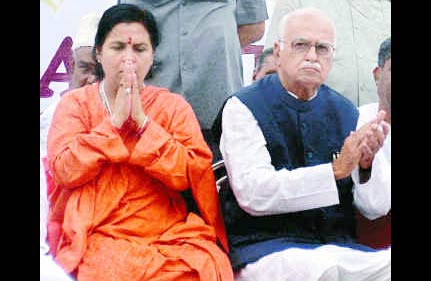 Somnath: Senior BJP leader L K Advani on Saturday side stepped questions on the possible return of expelled BJP leader Uma Bharti to the party, after she accompanied him on the Somnath temple visit.  
"She (Uma) had expressed the desire to come with me to Somnath and that is the reason she is here," Advani said refusing to entertain any questions on whether the firebrand leader was set to rejoin BJP.  
Uma along with Advani, his daughter Pratibha and state BJP in-charge Balbir Punj visited the famous Shiva temple here today and offered prayers and performed 'puja'.  
The former Madhya Pradesh Chief Minister was expelled from BJP in December 2005 following which she floated her own Bharitya Janshakti Party.  
Speculations of Uma's return to BJP have been rife since former External Affairs minister Jaswant Singh's recent re-induction into the party fold.  
The Gujarat BJP leaders are of the opinion that the visit of the two leaders to Somnath together might pave the way for her re-entry to the party. PTI