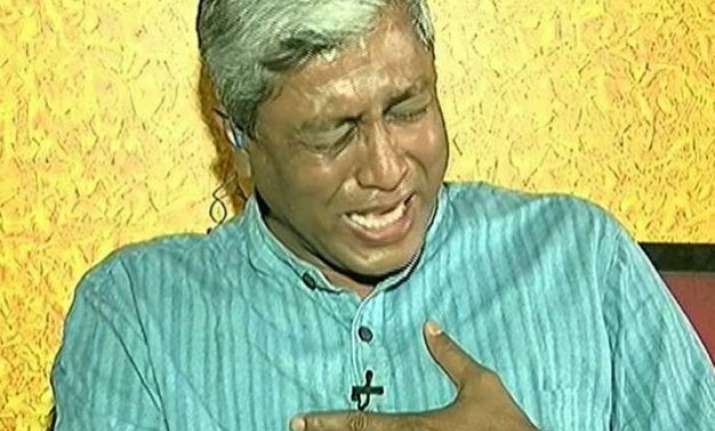 New Delhi: Aam Aadmi Party leader Ashutosh today broke down to tears while speaking to deceased farmer Gajendra Singh's daughter Megha Singh during a debate on a private news channel.
"I am guilty, Megha. I could not prevent the death of your father….. I hope you are able to forgive me for your father's death" the AAP politician said while participating in a live discussion for Headlines today. He also urged party leaders not to politicise Singh's death.
"I didn't enter politics for this kind of blame game. I want to request Rajnath Singh, Ajay Maken and Sambit Patra to stop politicising the death of a farmer," a visibly distraught Ashutosh said.
Earlier in the day,  Arvind Kejriwal apologized for not calling off the event and admitted that him making a speech was a "mistake". Slamming the media and opposition for politicising the issue, he said," the debate has veered away from the "real issue" of the farmers' plight."
Shortly after Gajendra committed suicide at Jantar Mantar, Ashutosh in a press conference had sarcastically said one could not have expected Delhi Chief Minister Arvind Kejriwal to himself climb the tree to save the man. He later apologised for the remark.
AAP leader Sanjay Singh, along with a delegation of party leaders, is currently meeting with farmer Gajendra Singh's family in Dausa. The party, including its chief and Delhi CM Arvind Kejriwal have been accused of being insensitive to Gajendra's suicide.
The Delhi Police has accused the party of instigating the suicide by cheering Gajendra while he was climbing the tree.
Even as the Delhi Police and the District Magistrate fought over the jurisdiction of the death of farmer Gajendra Singh, now the police have finally replied to the DM.
According to NDTV reports, the Delhi Police have told the DM, "Only judicial magistrate has jurisdiction over the matter."
#AshuCries becomes the top trend on Twitter.