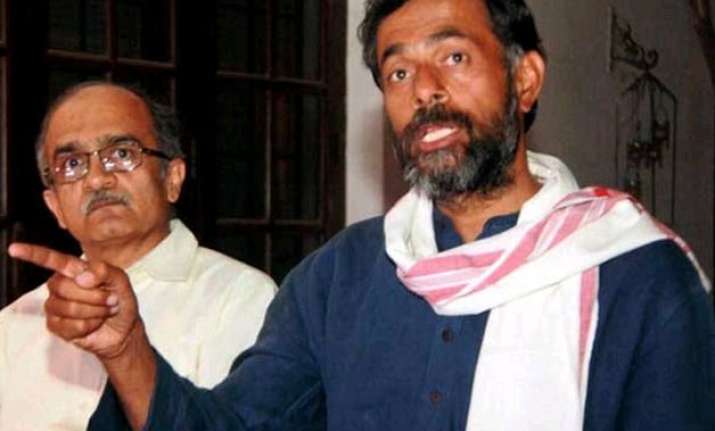 New Delhi: Dissident AAP leader Yogendra Yadav says he is anticipating his and Prashant Bhushan's expulsion from the party soon, calling the events so far a "farce being played out in the true spirit of Stalinist purges".
Yogendra Yadav and Prashant Bhushan have already been expelled from AAsays P's Parliamentary Affairs Committee and the National Executive as a result of the ongoing wranglings in the party.
In an interview to PTI on Monday, anticipating his expulsion as well as of Bhushan from AAP, Yadav said the AAP leadership would not stop before throwing him and Bhushan out of the party and both of them were ready for it. He said he will not resign on his own.
"Going by what we have witnessed in the last one month, that will be the most natural consequence. I thought initially that sidelining us was enough for them.
"Then I thought may be they just want to throw us from Political Affairs Committee, then it is the National Executive and my own sense is that this whole farce is being played out in the true sprit of Stalinist purges and it would stop only after our expulsion from the party," Yadav said.
Mulling their future course of action, the duo have convened a meeting of their supporters on April 14, amid speculation that they may a float a separate political party.
Yadav refused to answer any question on their next move except to state that their supporters, volunteers and well-wishers would meet on B R Ambedkar's birthday on April 14.
"My opinion is that the spirit of the AAP movement has to be kept alive. We must march forward. We must not allow these incidents and negativity to affect us. We should move forward. The way to move forward would be to generate energy in the country," Yadav said without elaborating further.
Yadav and Bhushan were expelled from the National Executive at a meeting of the National Council on March 28, weeks after they were removed from party's Political Affairs Committee.
Yadav said thousands of supporters and well-wishers of AAP were deeply disturbed about what was happening and want to see a way in which some of these things can be redressed.
"The questions that Prashant and I have raised are not individual questions. There is nothing personal about these questions. We would pose the same questions to volunteers across the country whose voice we have raised and who have been calling to say that they support us. We would meet them and then decide what is to be done," said Yadav.
Asked whether they are exploring legal recourse as both he and Bhushan called the Mar 28 National Council meeting illegal and  unconstitutional, Yadav said he personally does not favour wasting time in taking the matter to the court.
Yadav said he and Bhushan called off the reconciliatory talks on March 26 as Kejriwal supporters were insisting on their resignation from National Executive and refused to agree to any of their demands.
He said the negotiations had failed on March 24th itself but AAP leaders Ashish Khetan and Sanjay Singh wanted to make a last ditch effort.
"The entire negotiations had a starting point and an end point. The starting and end point was either you resign gracefully or we will throw you out," he said.
Yadav said he and Bhushan had been raising issues of inner party democracy for last one year and Kejriwal was not ready to examine any one of them.
He said Kejriwal loyalist Ashish Khaitan had come to him just 10 days after the Delhi Elections and asked him to quit both Political Affairs Committee and National Executive. "That day onwards the message was repeated every single time."
Yadav also slammed Kejriwal for removing internal Lokpal L Admiral L Ramdas. "The manner, the hurry in which Lokpal has been removed suggests a Stalinist purge. The manner in which the new disciplinary committee has been constituted, suggests this," said Yadav.
An "emergency" meeting of AAP's National Executive on Monday had removed Ramdas, a former navy chief, as internal Lokpal and appointed a new Lokpal panel.