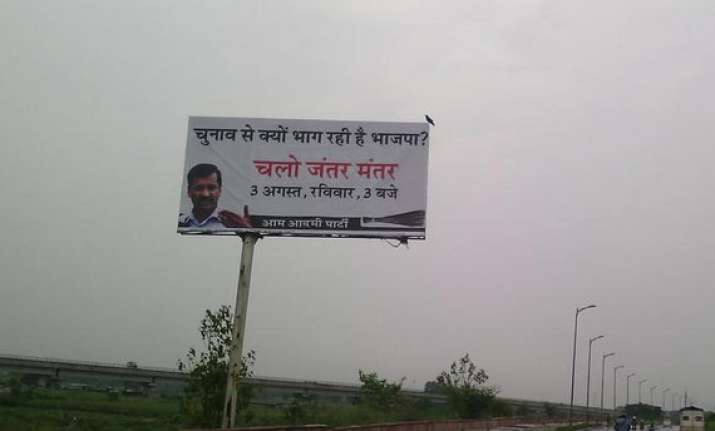 New Delhi: Coming down heavily on the Bharatiya Janata Party (BJP)-led NDA government at the Centre for allegedly misusing the Delhi Police to harass its workers and arrest them, the Aam Aadmi Party (AAP) said that the city police has become a puppet in the hands of the BJP and acting like a dictator.
Four AAP activists, who were pasting posters for an upcoming party rally in the capital on August 3, were arrested on Monday on the charge of defacing public property.
"We condemn BJP's attempts to politicise Delhi Police by using it as a puppet of Central government to shield its party MLAs involved in cases of corruption and serious crimes. It is being misused to victimize political rivals and people of Delhi," the AAP said in a Twitter post.
The arrested AAP activists were identified as Rajesh Kumar, Gulshan, Deepak and Rajinder Kumar (all aged between 20-30 years). They were booked under various sections of the Delhi Prevention of Defacement of Property Act, 2007.
The AAP volunteers were putting posters which said that a rally was scheduled for August 3 at Jantar Mantar demanding fresh elections in the national capital.
"Police found these posters 'objectionable' and arrested four AAP volunteers. BJP nervous and misusing police?" AAP chief Arvind Kejriwal said.
Another senior leader Manish Sisodia asked why was the Delhi Police differentiating between the AAP and BJP workers as other political parties also paste posters. "Why do police not take any action against them?" he asked.
Meanwhile, police said the AAP activists were found pasting posters at restricted places in south Delhi's Malviya Nagar and were taken to a police station by the patrolling team and put under arrest.