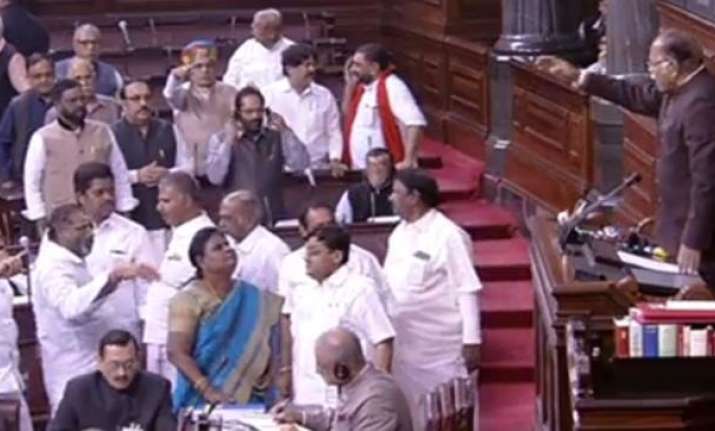 A united opposition is confronting the Narendra Modi government over its move to demonetise Rs 500 and Rs 1000 currency notes which has resulted in huge cash crunch in the country.
Both houses of Parliament opened to much shouting and were soon adjourned for short periods.
The Lok Sabha was adjourned for nearly an hour today after a relentless opposition demanded moving an adjournment motion to discuss the demonetisation issue. 
In the Rajya Sabha, opposition members are continuing to demand that PM Modi come to the House to listen to the remaining part of a debate on demonetisation and give a reply.
On the other hand, BJP lawmakers are demanding an apology from Congress leader Ghulam Nabi Azad for likening demonetisation deaths with the martyrs of Uri attack.
Azad's comments have now been expunged or deleted from Parliament records and cannot be reported in any form.  
As soon as the House met for the day, Leader of Congress in the Lok Sabha Mallikarjun Kharge demanded that the issue of scrapping of Rs 1000 and Rs 500 denomination notes be discussed through an adjournment motion and not the rule proposed by the government. 
Parliamentary Affairs Minister Ananth Kumar said the government was willing to discuss the issue and there was no need to press for an adjournment motion. 
As he said the entire nation was with Prime Minister Narendra Modi on the issue of demonetisation, a united opposition raised slogans and rushed into the well. Members of Congress, TMC and Left parties were also seen in the well. 
"You don't want to run the House," Speaker Sumitra Mahajan said adjourning the proceedings for nearly 50 minutes till 12 noon. Amid the din, only one question could be taken up during the Question Hour.
Finance minister Arun Jaitley Thursday ruled out a rollback on the recall of high-value banknotes, saying on Thursday that the rush of frenzied customers at banks had steadily decreased over the past few days.
The BJP-led Centre maintains that the move will uproot illegal cash from the economy while rivals, including Congress vice-president Rahul Gandhi, say that demonetisation has hit the poor and the marginalised.