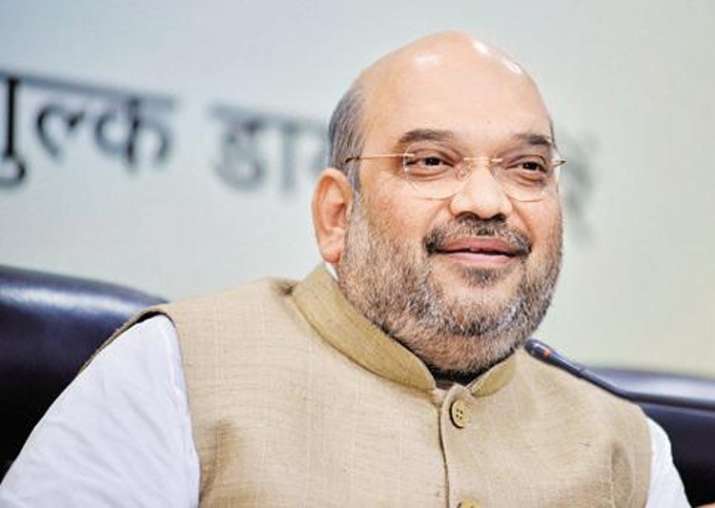 Bharatiya Janata Party (BJP) president Amit Shah today said that the saffron party will win the next general election in the country in 2019 by a much bigger margin than the majority achieved in the 2014 elections.
Addressing media here during a 'Meet-the-Press' programme of the Chandigarh Press Club, he said that the people of the country were overwhelmingly behind the BJP government at the centre led by Prime Minister Narendra Modi.
"We will win 2019 general election with much bigger majority. It will be much bigger than last time (2014)," Shah said, noting that the BJP-led NDA has provided a corruption-free and development-oriented government.
"The BJP has freed the country from (the shackles) of casteism (jaativaad), dynastic politics (pariwarvaad) and appeasement," the BJP chief said, who arrived here on Saturday to a rousing reception by party leaders and supporters.
'Will control Kashmir situation'
Asked about the ongoing turmoil in Jammu and Kashmir, Shah said that the situation would soon be brought under control.
"Regarding Kashmir, such situations have occurred many times since 1989. We will control the situation," he said, adding that security agencies have started their work against separatist leaders who had a role in adding to the present tense situation in the Valley at the behest of Pakistan and its agencies.
Highlighting the achievements of the BJP in three years in power at the centre, Shah said that the Modi government had taken the country forward on all fronts.
"Even our political opponents unable to level any allegations of corruption against BJP government in three years. This is a big achievement for BJP," he noted.
He said that the BJP had emerged as the biggest political organisation in the world with over 11 crore party members.
Asked about the questions being raised by Aam Aadmi Party (AAP) leaders regarding the electronic voting machines (EVMs), Shah said: "I want to ask AAP leaders which EVM they used to get 67 seats out of 70 in Delhi elections."
On the BJP's loss in recent assembly elections in Punjab, he remained guarded.
"You all know that we (BJP) were a minor partner (in the alliance with the Shiromani Akali Dal," Shah said, stopping short of blaming the Akali Dal for the loss.
He maintained that the Akali Dal-BJP alliance in Punjab "continues in the present". "The party doing its internal analysis of the election defeat in Punjab," he added.
The BJP chief is on a 110-day country-wide tour, which began in Jammu last month. His tour will be in two phases -- 95 days and 15 days. With an eye on the 2019 Lok Sabha polls, Shah is travelling across states to strategise and find ways to strengthen the party at the grass-root level.