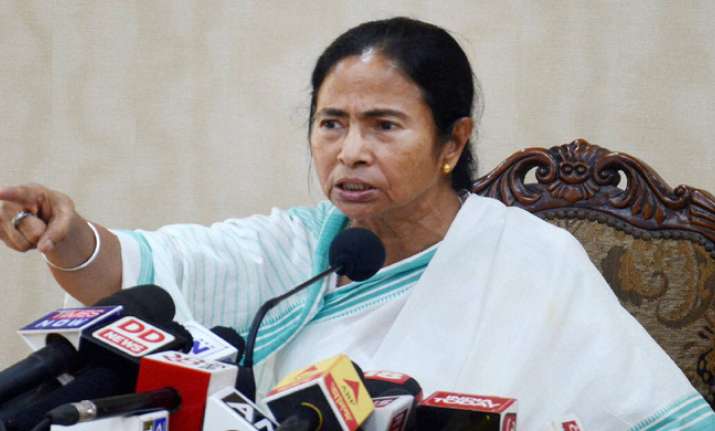 After her party's landslide victory in the West Bengal by-polls, a euphoric Chief Minister Mamata Banerjee today termed the results as "people's revolt" against Prime Minister Narendra Modi's 'demonetisation' move.
She also requested all opposition parties to start a wave of protests against the "financial emergency".
"People have revolted. This is symbolic, it is a vote against demonetisation. In a democracy, people vent their anger through votes," Banerjee told mediapersons.
The Trinamool today retained the Tamluk and Cooch Behar Lok Sabha and Monteshwar Assembly seats by huge margins.
Banerjee said her party won so massively as "the people have voted for those working in the people's interest.
"This huge victory is the victory of common people. I congratulate them for the result," Banerjee said at the NSCBI Airport on her way to Delhi.
"I want people across all political parties to start a wave of protest against this financial emergency. Protest, protest, protest," Banerjee said.
The Trinamool Congress supremo has also called on people from different socio-economic backgrounds to join hands on the issue.
"We appeal to NGOs, charitable organisations, political parties, student groups, civil society representatives, those form the cultural world and others to join," she said.
Talking about the upcoming elections in Uttar Pradesh and Punjab, the Trinamool chief said the BJP will feel the pinch of the common man's struggle in their vote bank.
"The BJP will get a befitting reply in the upcoming polls, the party will not get a single vote," she said.
Banerjee will lead a protest against the central government's decision to demonetise high value currency notes of Rs 500 and Rs 1,000 at the Jantar Mantar in New Delhi on Wednesday.
Banerjee has been at the forefront of the protests against demonetisation. Last week she called on President Pranab Mukherjee alongwith three other political parties seeking his intervention in the matter which has caused "tremendous hardship" to the people.
She also addressed a meeting at Azadpur Mandi, the biggest vegetable and fruits wholesale hub in Delhi, jointly with Delhi Chief Minister and AAP leader Arvind Kejriwal, giving a 72-hour deadline to the Centre to rollback demonetisation.
On Saturday, Banerjee marched to the Reserve Bank of India office in the city, summoned its officials on the road and sought information on the currency situation in the state. She is also scheduled to address protest meetings in Uttar Pradesh, Bihar and Punjab over the next few days.
Trinamool has also announced a three-day protest programme in the state beginning Tuesday, when the party would take out a rally in the city. Rallies would be held at the district headquarters and every block of the state in the next two days.
(With IANS inputs)