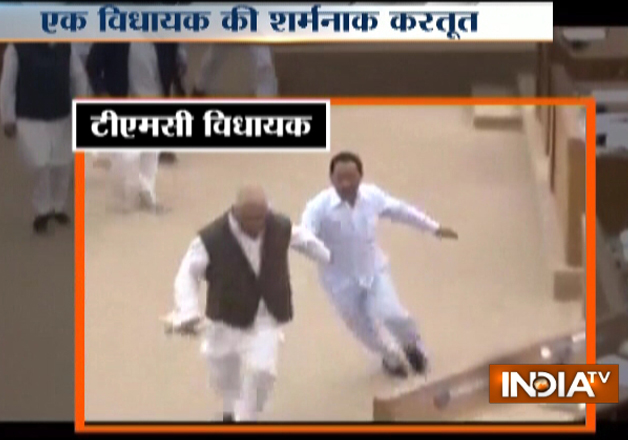 The Tripura Assembly on Monday witnessed a bizarre scene during the House proceedings when TMC MLA Sudip Roy Burman ran away with the Speaker's mace.
The incident took place during the Zero Hour when, Burman, former leader of the opposition, raised the alleged 'womanising' issue involving ruling CPI-M leaders, also published in a local Bengali daily.
Forests minister Naresh Jamatia then stood up and said that the charges published in the newspaper were baseless and it was a conspiracy to malign his image.
The minister said that he has already filed a defamation suit in a court against the newspaper.
The entire opposition - Congress and TMC – even approached the Speaker's podium and started sloganeering against Jamatia and demanded a statement from Chief Minister Manik Sarkar, who also holds the Home portfolio.
Sarkar said that the matter was sub-judice and opposition members will have to wait for the courts verdict.
Opposition members trooped to the Well and raised slogans demanding that Speaker Ramendra Debnath allow discussion on the matter.
At one point of time, Burman picked up the mace lying on the Speakers table and fled from the House. He was seen being chased inside the house, before he handed the mace over to the watch and ward staff in the lobby. 
When the House reassembled, the Speaker condemned taking away of the mace. Afterwards the House functioned normally.