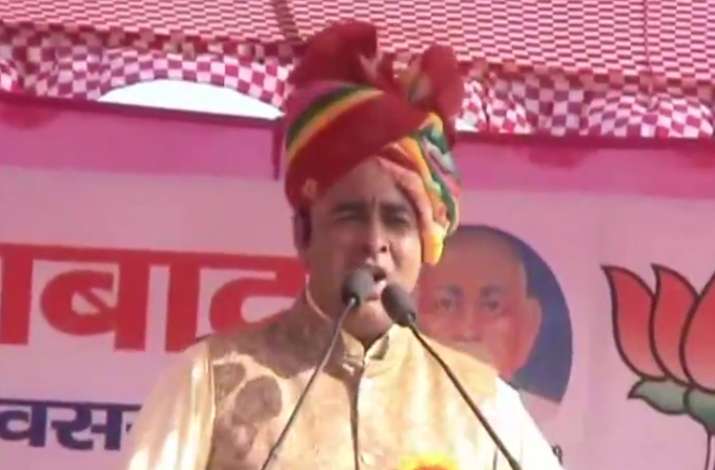 Terming Mughal emperors as "traitors" and the Taj Mahal a "blot" on Indian culture, controversial Uttar Pradesh BJP MLA Sangeet Som on Sunday said that their names would be removed from pages of history. 
Misquoting history, the legislator from Sardhana said the Taj Mahal is a "blot" on Indian culture as it was built by an emperor who had imprisoned his own father and had targeted many Hindus in his kingdom. 
The 17th century marble mausoleum was built by Shah Jahan in memory of his wife and was imprisoned till the end of his days by his son Aurangzeb. 
"Many people were pained to see that the Taj Mahal was removed from the list of places (tourist destinations). What type of history? Is this history that the person who built the Taj Mahal imprisoned his father? Do you call it a history when the one who built the Taj targeted many Hindus in Uttar Pradesh and Hindustan?" the BJP leader said.  
Som's comments came days after a booklet brought out by the tourism department of the Yogi Adityanath government in UP omitted the Taj Mahal from its list of major tourist destinations.
Following the reports, the state government had issued a statement saying, "Tourism projects worth Rs 370 crore are proposed, under which schemes worth Rs 156 crore are meant for the Taj Mahal and its surrounding areas in Agra."
BJP's Sangeet Som says,'Many were sad when Taj Mahal was removed from historical places.What history? Its creator wanted to wipe out Hindus' pic.twitter.com/5OcpJwC4d7

— ANI (@ANI) October 16, 2017
Addressing a gathering on Sunday at Sisoli village after inaugurating a statue of 8th century king Anangpal Singh Tomar, Som said invaders of India have been glorified in history. "I guarantee you that we will change this history."
The lives and achievement of the "real great men" of the country like Maharana Pratap and Shivaji would be taught in schools and colleges, Som said. 
There were many Hindu kings in the past who do not have a mention in history books. The BJP government would make sure that their valour and sacrifice is properly respected, Som said. 
He also said no one can now stop the construction of Ram Temple in Ayodhya and Krishna Mandir in Mathura.
(With agencies)