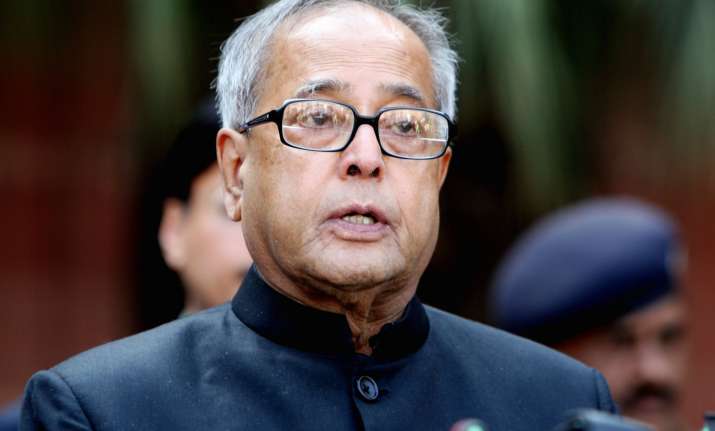 New Delhi/Dehradun: BJP's Uttarakhand legislators along with nine Congress rebels will meet President Pranab Mukherjee today evening to seek his intervention in the ongoing political crisis in the hill state.
A Congress delegation will also meet the President over the issue.
"We will ask the president to dismiss the Harish Rawat government in Uttarakhand as they have lost majority," BJP general secretary Kailash Vijayvargiya told media.
Ajay Bhatt, who is also leader of opposition in the assembly, said that the president has given them time to meet at 7 p.m.
"We have the majority to form the government and we would request the president to conduct a floor test on Tuesday itself as everyone will be present there," he said.
Shortly after, BJP leaders' proposed meeting, a Congress delegation will meet the President.
"A delegation of senior Congress leaders including A. K. Antony, Ghulam Nabi Azad, Motilal Vora, Ambika Soni, Ahmed Patel and Kapil Sibal will be meeting the president at 7.30 p.m," a Congress release said.
In Dehradun, the Congress expelled from the party two senior leaders for six years for indulging in anti-party activities.
Saket Bahuguna, son of former Uttarakhand chief minister Vijay Bahuguna, and state Congress joint secretary Anil Gupta were expelled from the party.
Saket Bahuguna had contested the last Lok Sabha elections from Uttarakhnd on the Congress ticket.
Sources told IANS that the Congress high command has asked Chief Minister Harish Rawat to go ahead and tackle the rebellion with an iron hand.
The action indicated that the Congress leadership was not in a mood to initiate dialogue with the rebels and that it was even willing to sacrifice the government if need be.
The nine legislators who rebelled against the Harish Rawat government in the state assembly last week have already been served show cause notices by the assembly speaker.
Leader of the rebel group, Harak Singh Rawat has already been sacked as the state's agriculture minister.
The Bharatiya Janata Party, accused by the Congress of conspiring to topple its government, has publicly washed its hands of the rebellion but demanded that the Harish Rawat government be dismissed.
As on Sunday, the ruling coalition discussed how to prove the majority on the floor of the House by March 28 as mandated by Governor K.K.Paul, show cause notices were pasted on the houses of Congress rebel legislators and the chief minister personally oversaw the sealing of the Vidhan Sabha office of Harak Singh Rawat.
Speaker Govind Singh Kunjwal has served notices to nine Congress rebels seeking their responses by March 26 on why they should not be disqualified from the membership of the House for violating the party and alligning with the opposition BJP.