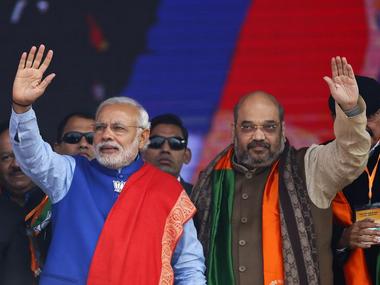 Samajwadi Party minister in UP government, Rajendra Chaudhary , today created a controversy by calling Prime Minister Narendra Modi and BJP chief Amit Shah "terrorists".
"Both of them want to create an environment of fear in the state for votes. They (Modi and Shah) are terrorists. They are creating terror in our democracy," Rajendra Chaudhary told media persons in Lucknow. 
"The BJP knows it is losing the UP polls and it will perform worse than even in Bihar," said Chowdhury. 
Reacting sharply to Rajendra Chaudhary's remarks, the BJP said that the use of such "intemperate language" shows SP's "frustration". 

 

Modi had yesterday suggested that SP government was discriminating among people on the basis of religion and caste. 
The SP leader today said Shah "used to terrorise voters" from the dais and many times its own workers "get afraid of him due to his behaviour". 
BJP has reacted sharply to the "intemperate language" of the leader. 
"It is their (SP's) frustration and people of UP will punish them for such intemperate language against the PM," said BJP vice president and party's UP in-charge Om Mathur.  He said the SP is losing the elections badly and that is the reason for use of such language in utter frustration.