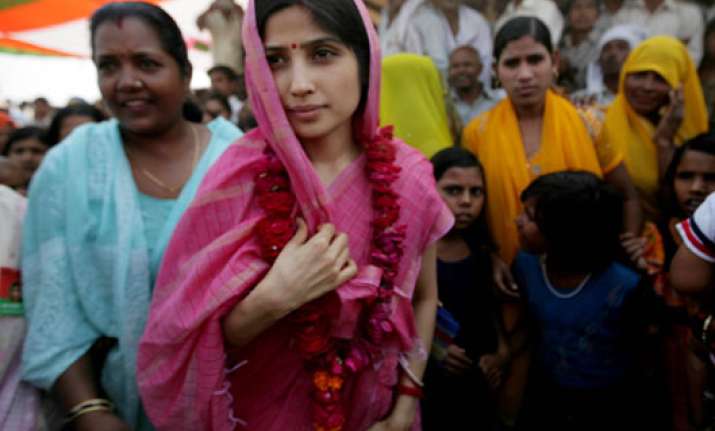 Dimple Yadav, the wife of Uttar Pradesh Chief Minister Akhilesh Yadav and Samajwadi Party MP from Kannauj Lok Sabha constituency, emerged as a major crowd puller for her party in the UP Assembly elections this year.
Popularly referred to as 'Dimple bhabhi' by the SP cadre, especially the younger generation of party workers, the soft-spoken 'bahu' of UP's  first family tried her best to extend optimal support to her husband during the election campaign.
It was a remarkable feat for a leader who repeatedly fumbled while going through her written text in Parliament on Kaushal Vikas mission some months ago. Clearly, Dimple has come a long way since then.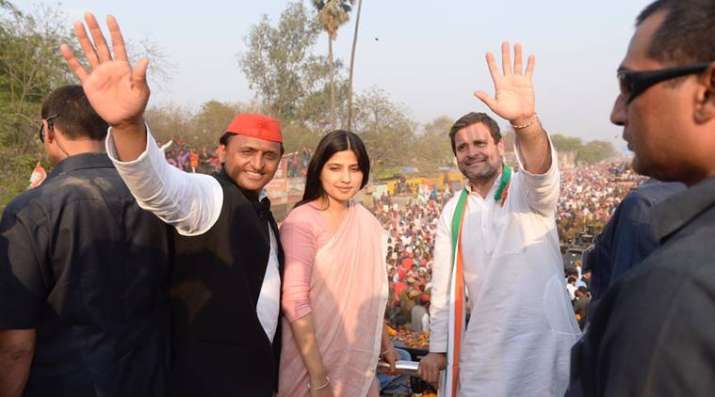 Dimple with Akhilesh and Rahul
The new Dimple – the star campaigner – has learnt how to keep the audience especially the youth involved and impress them.
Aptly donning the role of the 'bahu' and 'bhabhi', she has gone about endearingly reprimanding the young enthusiasts with warnings that she will complain about them to their 'bhaiya' (Akhilesh Yadav) and at the same time taking care of the elders among the electorate seeking 'muhdekhaiye' (gift) for her in terms of votes.
When party workers went berserk in Allahabad, she said, "I will tell bhaiya (Akhilesh) that you did not let me speak. I will complain...Bhaiya is coming here tomorrow."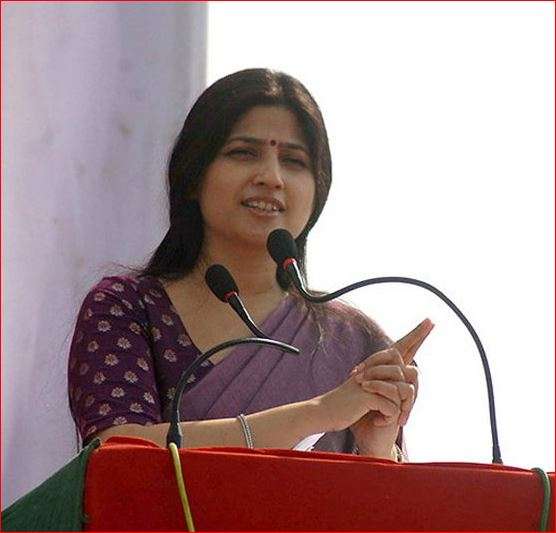 Dimple Yadav addressing a rally
Addressing another election rally in Jaunpur, she won over the elders and young alike when she started her speech seeking 'muhdikhai' -- a ritual where family members give a gift to a bride when they see her face for the first time.
"...Main pehli baar poorvanchal aayee hoon...Mujhe muh dikhai milegi...Poora vishwas hai (I have come to Poorvanchal for the first time. I am confident I will get the gift of votes as muhdikhai)," she said striking an instant chord with the people.
In the face of dissent in the family which had left Chief Minister and party president Akhilesh Yadav almost alone to lead the campaign, he found sufficient support in his wife who took to electioneering on her own and with ease.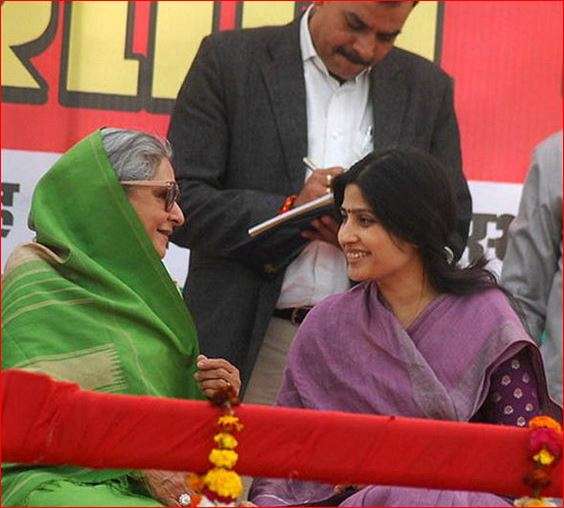 Dimple with Jaya Bachchan
The shy daughter-in-law of Mulayam Singh Yadav has not desisted from attacking even the high and mighty political opponents but with dignity and decorum in the times when electioneering touched a new low.
"Mere angney mein tumhara kya kaam hai?" she questioned in a clear reference to Prime Minister Narendra Modi's adopted son remark.
She was firm when she remarked in Bhadohi: "I am the daughter of an armyman, these people are taking credit for the martyrdom of our soldiers...They are politicising the army... never seen such a government earlier."
She also paid back when she said, "The Modi government which had promised 'achchey din' did the 'karnama' of note ban. ...You were made to run around for taking out your own money from banks...That was your hard earned money...Till date there is no detail of how much black money has been detected."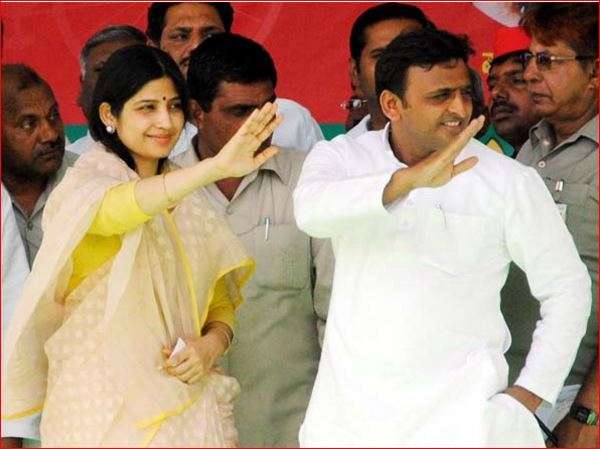 Dimple with Akhilesh
In the over two dozen meetings that she addressed, Dimple's interaction with the surging crowds had been extempore and personal and the response was surprising.
According to party insiders, Dimple's involvement in these elections had not just been confined to campaigning but she had also worked back channels on behalf of her husband.
She is said to have met the Congress leadership, carrying message from Akhilesh, for finalising the SP-Congress alliance around which the party built up its election strategy.
Shedding the tag of a reluctant politician, Dimple led a sustained attack on political opponents.
Not only did her presence add colour to the SP's campaign, she also connected well with the youth and the women.
(With PTI inputs)