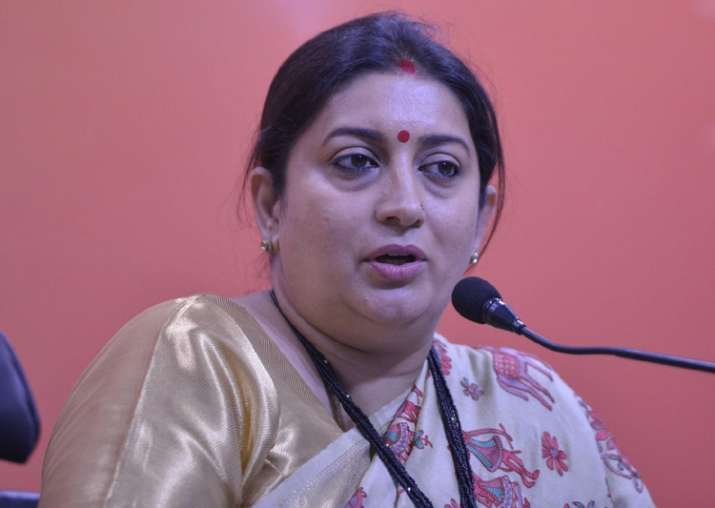 The Bharatiya Janata Party (BJP) today hit back at Congress vice president Rahul Gandhi for defending dynastic politics, reminding him that the top three constitutional posts in the country are held by common people with merit and that democracy is not beholden to dynasty.
Addressing media here, Union Minister and BJP leader Smriti Irani blasted Rahul, saying his 'admission that the Congress had turned arrogant since 2012 was a reflection on Sonia Gandhi's leadership'.
"The fact that he (Gandhi) says that dynast and dynasty are the very fulcrum in India is itself an anomaly. The three dignitaries (President, Vice President and Prime Minister) in the highest constitutional positions today are in themselves an indication that Indian democracy thrives and gives opportunity to merit and is not beholden to dynasty," she said.
Irani was responding to the remarks of Rahul Gandhi about dynastic politics and that most of the country runs like this. "That's how India works," he had said during a talk at Berkeley University during his visit to the US.
"Dynastic politics is a problem in all political parties. Akhilesh (Yadav son of Mulayam Singh Yadav of the Samajwadi Party), (M.K.) Stalin (son of M. Karunanidhi in DMK), Abhishek Bachchan (son of Bollywood superstar Amitabh Bachchan) -- are all examples of dynastic legacy, also (Mukesh and Anil) Ambani (son of Dhirubhai Ambani), that's how the entire country is running," Rahul had said.
Irani said that the Prime Minister (Narendra Modi) was born in a village in Gujarat to a poor family, elected to the post after receiving resounding support from the people of our country. 
"The President (Ram Nath Kovind) was born in a marginalised family and has received the rank on his own merit. The Vice President, born in the family of a farmer after years of activism, is being blessed with leading the nation as the Vice President," she said.
The BJP leader also took on Gandhi for his remark in which he blamed arrogance for his party's decline in 2014 elections.
"The fact that Gandhi chooses to belittle the leadership of Sonia Gandhi is an issue for the Congress to introspect on. I shall say that it is not surprising that a dynast has absolutely no support, no kind or good words to speak about cooperative federalism which is very evident in Indian polity today," she said.
Irani said that a "failed dynast chose to speak about his failed political journeys in USA". 
"The Congress Vice President has publicly proclaimed that under the leadership of Sonia Gandhi, the Congress became arrogant. This confession made by Rahul Gandhi is something for the Congress to deal with. The fact that Gandhi chooses to belittle the Prime Minister is not surprising, in fact expected. 
"But what is to be said is that after failing to connect with the people of India, Gandhi chooses a platform of convenience for berating his political opponents," she said.
Rahul Gandhi, who is on a two-week visit to the US to interact with political leaders, global thinkers and overseas Indians, spoke on the political environment in the country, the Congress party, the effects of demonetisation among other issues.
The Congress leader said "Around 2012, arrogance crept into the Congress party and we stopped having conversations with people".