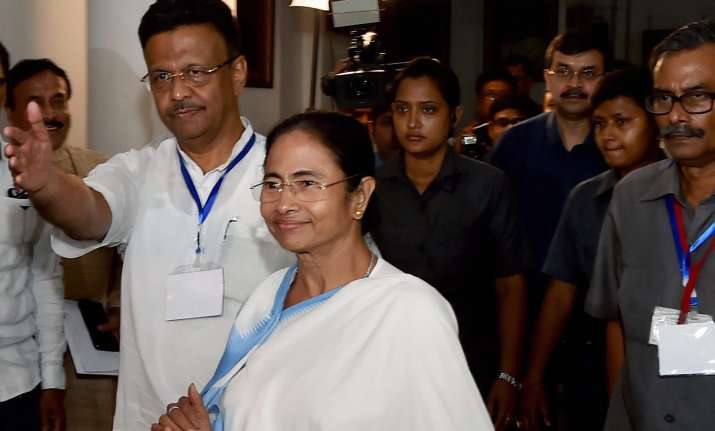 West Bengal Chief Minister Mamata Banerjee on Saturday criticised the BJP-led central government for its stand on Andhra Pradesh, saying that it bulldozed states to show them that it was doing a favour by giving funds. Extending her support to Naidu, Banerjee on Saturday tweeted, "I appreciate that Chandrababu Naidu Ji @ncbn has stated the facts. Very good. There are many so-called leaders who spread lies. They make this a habit. They try and bulldoze States and show that they are doing the States a favour by giving funds. This is fake federalism (sic)."
Her statement came in the wake of BJP president Amit Shah's letter to Andhra Pradesh Chief Minister N Chandrababu Naidu and the latter hitting back at him. 
Shah, in his letter to Naidu, had said the latter's "unilateral" decision to quit the NDA was for "political considerations and not development". 
Shah's letter on Friday came a week after Naidu's Telugu Desam Party (TDP) pulled out of the NDA over its demands for special category status to Andhra Pradesh. 
Naidu, in a counter-attack, criticised Shah's open letter to him and alleged that it was "full of false information" that hurt the sentiments of the Telugu people. 
Shah had described as "untrue and baseless" the TDP chief's allegations that the BJP was not sensitive to the aspirations of the people of Andhra Pradesh. He had said the NDA government had released Rs 1,050 crore in the first three years of coming to power as a special development assistance for seven backward districts of the southern state. 
"Surprisingly, the state has spent only 12 per cent of this amount and 88 per cent remains unutilised," Shah had said. 
Banerjee also extended her support to Bahujan Samaj Party (BSP) supremo Mayawati, who today asserted that her party's understanding with the Samajwadi Party (SP) would not be affected by the defeat in the Rajya Sabha polls and that she would not allow the BJP's "design" to create a rift between the two parties to succeed. 
Her remarks came after SP chief Akhilesh Yadav cancelled the victory celebrations for his party nominee Jaya Bachchan in Lucknow as a sign of solidarity with the BSP, whose lone candidate backed by the SP lost in the Rajya Sabha polls. 
"I welcome the views expressed by Mayawati Ji today. We are strongly with her and @yadavakhilesh in this mission for the nation," Banerjee said in another tweet.
(With inputs from PTI)