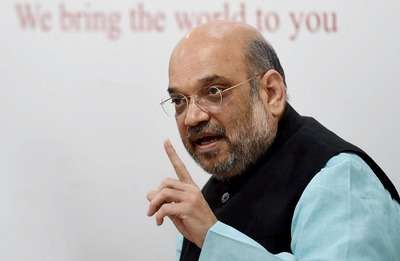 BJP President Amit Shah on Friday admitted that an alliance between the BSP and SP in Uttar Pradesh will be a challenge for the BJP in 2019 but asserted that the BJP will defeat the Congress either in Amethi or Rae Bareli.
"If the BSP and SP contest in alliance, it would be a challenge to us. But we are sure that we will win either one seat: Amethi or Rae Bareli," he told journalists here on the occasion of the completion of four years of the Modi government.
The BJP chief said it did not want to give up its alliance with old time ally Shiv Sena in Maharashtra but insisted that the BJP would have no option if the Sena wanted to part ways with it.
"In 2019, the BJP will fight with the Shiv Sena in Maharashtra. We don't want to oust them from the NDA. But if they go out, it's their will. We are ready for every situation," he said.
Shah said the opposition parties were aligning with like-minded parties as they feel they may not be able to defeat the NDA in 2019 elections on their own.
"They all fought against us in 2014 too but failed to stop us. They all have their presence in their respective states. Even if they come together they won't be able to defeat us," he said.
The BJP chief said the BJP would win at least 80 seats in 2019 which it could not win in the last election.
"We will win such seats which were not with us in northeast, West Bengal, Odisha, Andhra Pradesh, Telangana, Tamil Nadu, Kerala and many other places," he said.
The BJP President also maintained that the Chief Ministers in Rajasthan, Chattisgarh and Madhya Pradesh will not be changed.
He said the new BJP President in Rajasthan would be declared after May 26.
Modi govt's schemes benefitted 22 crore poor families: Amit Shah
Amit Shah further said the Modi government's welfare schemes in its four years have benefitted 22 crore poor families and set an example of how a pro-people dispensation is run. 
The party also unveiled a new slogan 'Saaf Niyat, Sahi Vikas' (clean intentions, right development) as it launches a nation-wide drive to highlight the government's works. 
Prime Minister Narendra Modi had led the BJP to its maiden majority in the Lok Sabha in 2014 general election, and his government and the party have stepped up their outreach in the run up to the next polls scheduled for 2019. 
Shah said the government had come to power at a time when people had started thinking if the multi-party democracy had "failed", but it infused a new sense of hope. 
The dispensation has taken concrete and tangible steps in every sector, he said, adding that it has shown that a government can be pro-farmers and also be of help to industry, and can develop rural and urban regions together. 
Defence Minister Nirmala Sitharaman gave a presentation with '48 months of transforming India' being its catchline. 
In the four years of the government, sanitation coverage in the country rose from 38 per cent in 2014 to 83 per cent in 2018 with over 7.25 crore toilets being built. As many as 3.6 lakh villages were declared open defecation free, she said. 
Over 31.52 crore Jan Dhan bank accounts were opened and 5.22 crore families benefited from life insurance cover provided at an annual premium of Rs 330, she said. 
India's GDP in current prices went up by 31 per cent between 2013-17 while the corresponding global rise was four per cent, Sitharaman said. 
She also spoke about the government's multi-faceted focus on doubling farmers' income and also for women's safety, including enactment of a law providing death penalty for rape of a girl below 12 years of age. 
Union ministers Rajnath Singh, Nitin Gadkari and Sushma Swaraj were among those present on the occasion.