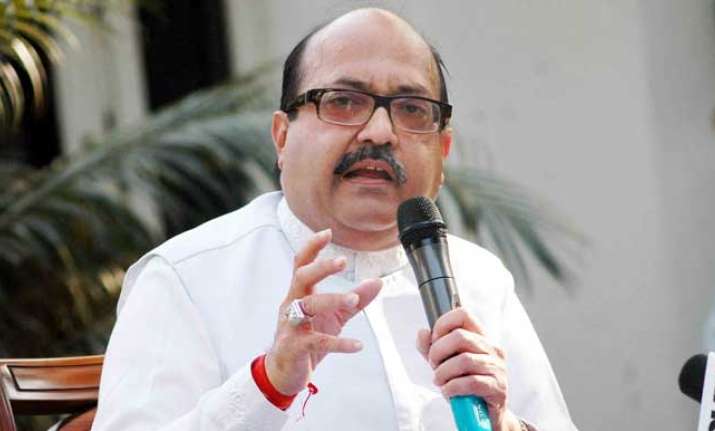 Expelled Samajwadi Party MP Amar Singh on Thursday predicted a win for the Bhartiya Janata Party (BJP) in the Uttar Pradesh Assembly elections while hitting out at Chief Minister Akhilesh Yadav and the Samajwadi Party.
Amar Singh made the remarks in separate interviews to two different private TV channels.
Singh chided Akhilesh over his claims of constructing roads in UP and said it was all only done on papers. He further alleged that there was a Rs 4,000 crore scam in the road construction from Saharanpur to Lucknow. 
Terming the SP a party of gangsters and rapists, Singh targeted rape-accused Arun Verma and Gayatri Prajapati. 
The Rajya Sabha MP, who was expelled by Akhilesh in January for allegedly causing a rift in the party and the Yadav family, said: "Thank god I am not a member of a gangster, rapist party. This is their achievement which the public sees.
"If I was the bad influence in the party, then why are rape-accused Arun Verma and Gayatri Prajapati still campaigning for the party?" he asked. 
He also criticised Akhilesh's decision to forge an alliance with the Congress.
"I have always considered Akhilesh my son. As he grew up, he stopped giving me respect. I won't wish him victory, but I wish him a long life," he said.
Singh also jumped to the defence of Prime Minister Narendra Modi over his 'kabristan-shamshan' remarks. "The Prime Minister did not use derogatory words and neither he is communalising any issue. PM is talking about both kabristan (graveyard) and shamshan (cremation ground) and not just about kabristan."
He said that Modi was called "maut ka saudgar" and he became the PM and now he is being called a donkey and Ravan which will end SP's ill-rule in the state.
The Samajwadi Party went through a bitter power struggle between Akhilesh and his father Mulayam Singh Yadav, with the fight reaching the Election Commission. The poll body ultimately allotted the party symbol to Akhilesh, recognising him the National President of the SP.
Amar Singh has been blamed by a section of the party leadership for creating fissures between Mulayam and Akhilesh.
Recently, he was relegated to the back benches of the Rajya Sabha by the SP.