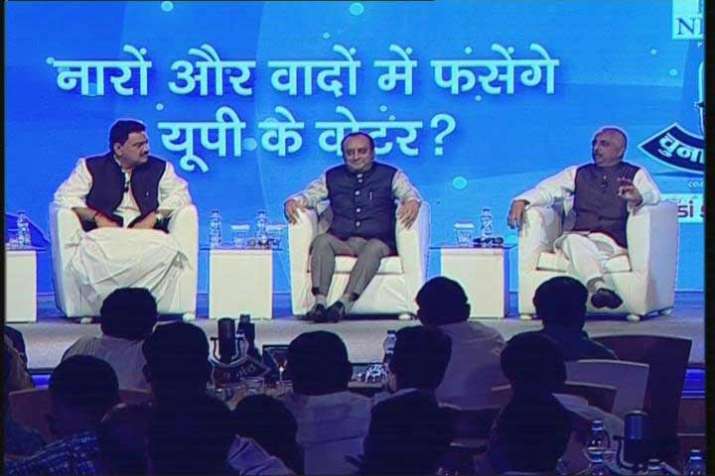 The Bharatiya Janata Party (BJP) today slammed the Samajwadi Party government in Uttar Pradesh alleging that law and order has deteriorated in the state and that many crimes are not even reported to police.
Speaking at a panel discussion during India TV conclave 'Chunav Manch' in Lucknow, BJP spokesperson Sudhanshu Trivedi pointed to the Bulanshahr incident where victims were unable to reach the police for help as calls to 100 did not materialise since the numbers were not working.
"Around a dozen policemen were killed in the last four years, many crimes go unreported in the state so you cannot except NCRB to show that data," Trivedi said. 
He also took a swipe at the Congress for its state election campaign slogan ' 27 saal UP Behaal' saying that the grand old party has supported SP, BSP during its rule in the state.
Trivedi also said that nepotism has taken deep roots in the UP cabinet and now the Mulayam Singh-led party has made it into a family business.
"SP preferred to share political powers within the family, which has led to rift," he said.
Countering BJP's charges, UP minister Narad Rai said that even other parties have family members in politics and there is nothing new to it.
He also said that Samajwadi Party has fulfilled many promises - some in their party manifesto and others which were not included at the time.
Congress leader Akhilesh Pratap said it was under Congress rule that country's annual budget witnessed a four-fold increase and it resulted in higher budget allocation to many states, including Uttar Pradesh.
The Congress leader also targetted Prime Minister Narendra Modi dubbing him as a PM of false promises.
He said PM Modi has backtracked on many of his words and that the BJP reacts bitterly when confronted with the truth.