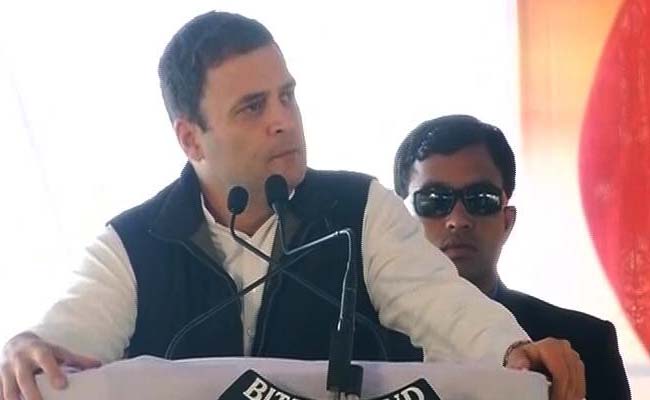 Congress Vice President Rahul Gandhi on Monday will appear in a Bhiwandi court in connection with a defamation case over his alleged remarks against the RSS regarding the assassination of Mahatma Gandhi.
This morning, he confirmed in tweets that he would be in Bhiwandi before heading to Goa.
"Will be in Bhiwandi this morning before heading to Goa," said Gandhi in a tweet, who will be in Maharashtra during the day as he heads from the court-hearing to a political rally in the poll-bound state of Goa.
The case against the Congress Vice President was filed by a Rashtriya Swayamsewak Sangh (RSS) functionary, Rajesh Kunte, over his speech in Bhiwandi on March 6, 2014.During his party's rally the Congress leader had allegedly then said: "The RSS people had killed Gandhi."
During his last appearance in November, the Congress Vice President was granted bail within minutes, but his brief visit was seized by the party to stage a political show in Bhiwandi, around 32 km from Mumbai.
The Bhiwandi court had granted bail to Rahul Gandhi on a personal bond of Rs 15000 The Congress leader had appealed the court to schedule next hearing on January 30, the day Mahatma Gandhi was assassinated in 1948.
Last year, the 45-year-old Congress leader withdrew a request to dismiss the case in Bhiwandi and told the Supreme Court that he is ready to be tried on charges of defaming the RSS.   
The RSS said that it could withdraw the case if he states publicly that he does not blame it as an institution for the death of the Mahatma. Mr Gandhi, however, told the court he would "never" take back his words.
"I stand by each and every word. I will never take my words back... I am ready to go to trial," said Mr Gandhi to judges through his lawyer, former union minister Kapil Sibal.
The court had granted him bail after he appeared before it at the last hearing.