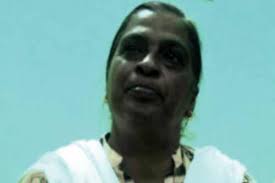 In yet another statement that brings huge embarrassment to the ruling BJP, party's Haryana unit women's cell chief Nirmal Bairagi on Friday said that "incidents of rape have been there since the creation of Earth". 
Bairagi made the contentious remark while replying to reporters who pointed out on the increasing numbers of rape incidents in the state over the last two years. 
"Incidents of rape were there ever since the creation of earth," she said on being asked about the progress in police investigation into a recent Rohtak incident where a Dalit woman was allegedly gang-raped by five persons in a repeat offence.
Bairagi claimed the state government took such incidents seriously and all necessary steps have been taken to curb them, adding that "most of the accused" in the Rohtak incident have been nabbed.
Replying to another query, she said the executive body of the state women's cell of the BJP would be constituted soon for which she was touring various districts to collect the feedback of active workers.
Earlier, on Wednesday, BJP leader Dayashankar Singh was suspended from his party for six years for his derogatory remarks against BSP chief Mayawati. 
Singh, while talking to media in UP's Mau, had called the dalit leader and former UP Chief Minister "worse than a prostitute."
"Even a prostitute fulfills her commitment after she is paid. But Mayawati sells party tickets to anyone who paid her the highest amount. If someone gives her Rs 1 crore for a ticket she will give it to other person who is offering Rs 2 crore," Singh said.
"Mayawati has become worse than a prostitute and abandons the ideals of Kanshi Ram," he said.
Under attack for his remarks, Dayashankar later apologised and said, "Mayawati is a big leader,I can't say such a thing about anyone. I apologize for my remark."
"I can't even think about Mayawati ji in such a way. She has reached here after a lot of struggle," he added.
(With PTI inputs)