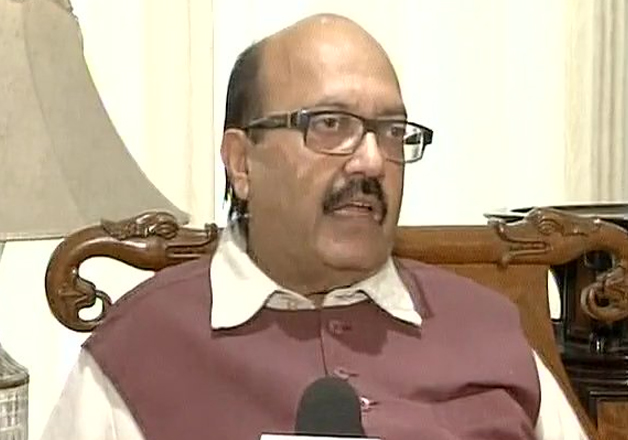 Samajwadi Party general secretary Amar Singh today said that suspended SP leader Ramgopal Yadav will be solely responsible if any harm is done to him.
"I have two young daughters and right now I am scared after Ramgopal Yadav's threatening statement," Singh told news agency ANI.
Singh's remark came in the wake of Ramgopal's threat that the former would not return safely from a public meeting in Uttar Pradesh if he dares speak against him.
"Let Amar speak against me in any part of UP, and I will see how he returns safely after that," Ramgopal had said, a day after he was expelled from the party.
Singh also rubbished media reports claiming that he had called Ramgopal 'impotent'.
"Never called Ram Gopal ji 'napunsak'; I have called him names twice including 'Bal Gopal,' but never used abusive words as such," he said.
He made this comment after his name was dragged in the family feud of the Yadavs.
When asked about CM Akhilesh Yadav's remark calling him a 'dalal', he replied, "Hurt by his words. There is no photo of his wedding where this 'dalal' is not there. When his family was opposing his marriage, I was the only one supporting him."
The SP leader also made it clear that he maintains a healthy relationship with SP supremo Mulayam Singh Yadav and that he will always support his son Akhilesh.
"I may not be with CM Akhilesh (Yadav) but I will always be with Mulayam Singh Yadav's son Akhilesh," he said, adding that "if my sacrifice can help resolve the matter, I am okay with it."
"I can meet Rahul Gandhi but I can't meet Akhilesh," Singh, who was recently appointed SP general secretary by Mulayam, said.
Singh further said that he had no role in the decision to replace Akhilesh as UP unit chief of SP with Shivpal SIngh Yadav. 
"When Akhilesh Yadav replaced Shivpal Yadav as the UP SP President, even then I was blamed for it. But instead of blaming me, Shivpal Yadav welcomed the new UP SP President in the party office," he noted.
To a question about his participation in the SP's silver jubilee celebration on November 5, he said, "I am invited to the event. But I don't want to go… don't want to get beaten up. I will participate only if Akhilesh asks to attend it."
The Samajwadi Party is hit by a dramatic event just ahead of the Assembly polls when in a tit-for-tat situation, Akhilesh had ousted his uncle Shivpal and three others from the government, while the party brass retaliated by sacking general secretary Ramgopal Yadav for six years from the party. 
UP Assembly polls are due early next year. In the 2012 polls, the Samajwadi Party had won a record 224 seats in the 403-chair House.