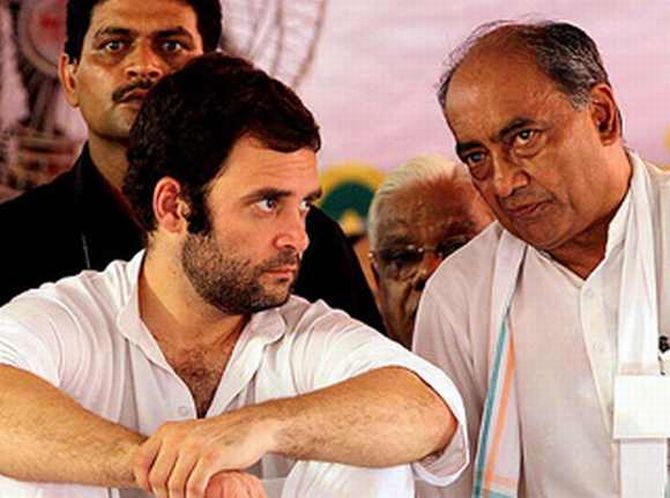 Congress general secretary Digvijaya Singh has said that it's time for party vice president Rahul Gandhi to act decisively in order to make a new Congress with a new charter, a new roadmap and a new style of campaigning.
Speaking at an event organised by The Indian Express, Digvijaya Singh, however, pointed out that Rahul gets angry when he repeatedly asks Congress vice president to act decisively. 
"I would say that we want a new Congress, a new charter, a new roadmap, a new style of campaigning. A new Congress has to be built, and there is no other person who can do it better than Rahul Gandhi. He has to act… My complaint against Rahul Gandhi is that he is not acting… decisively. I have told him a number of times. Sometimes, he gets angry when I keep repeating the same thing," Digvijaya Singh told The Indian Express.
He also admitted that there was a need for the Congress to be more attuned to modern changing times and that it has to be done by Rahul Gandhi.
"We have to… make Congress more attuned to modern changing times, looking into the aspirations of a rising middle class, and chart a new course for the party. The leadership has to do it… Rahul Gandhi has to do it," he added.
Digvijaya Singh also expressed his disappointment over the delay in the implementation of the A K Antony Committee report which was summarised and discussed by Rahul Gandhi with more than 150 senior leaders of the party.
"This report was submitted in February 28, 2015. And on the basis of that report, the new Congress was to be drafted. Unfortunately, that has not happened. This should happen," Digvijaya Singh said.
Digvijay Singh added that only Congress president Sonia Gandhi and Rahul would know when the Antony Committee report will be implemented.