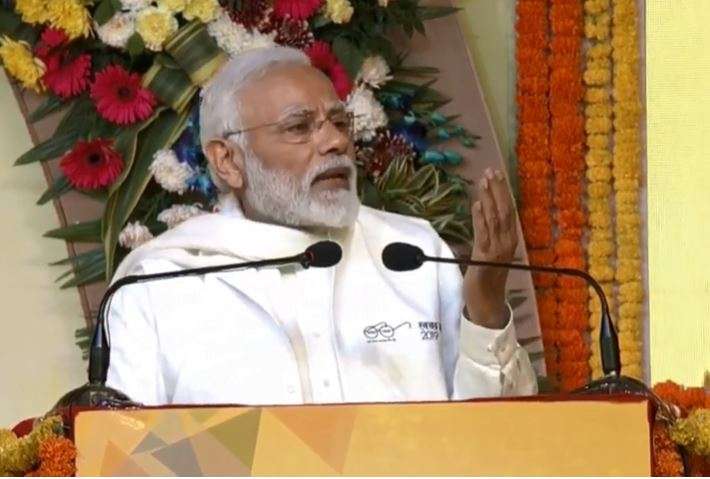 Prime Minister Narendra Modi visited Kurukshetra in Haryana on Tuesday. He participated in Swachh Shakti-2019. He also inaugurated and laid the foundation stone of several development projects in Haryana.
The prime minister participated in Swachh Shakti-2019 and distributed the Swachh Shakti-2019 awards. He visited the Swachh Sundar  Shauchalay exhibition at Kurukshetra and addressed a public gathering.
Swachh Shakti-2019 is a national event. It is attended by women Panches and Sarpanches from across the country. The event is aimed at empowering women.
First edition of Swachh Shakti programme was launched from Gandhinagar, Gujarat by the Prime Minister Narendra Modi on International Women's Day. The next edition was Swachh Shakti-2018 from Lucknow, Uttar Pradesh.
Development Projects  
PM Modi dedicated to the nation National Cancer Institute, Bhadsa, Jhajjar.
The National Cancer Institute is the state of the art Tertiary Cancer care cum Research Institute, constructed at the AIIMS Jhajjar campus. The 700 bed hospital, will have different facilities like surgical oncology, radiation oncology, medical oncology, anaesthesia, palliative care and nuclear medicine, besides hostel rooms for doctors and attendants of cancer patients. The NCI will be the nodal institution for all activities related to cancer in the country and will have linkages with regional cancer centers and other cancer institutes within the country. As India's premier institute of cancer, NCI, Jhajjar is responsible for identifying priority areas for Research & Development carrying out basic and applied research in molecular biology, genomics, proteomics, cancer epidemiology, radiation biology and cancer vaccines.
Inaugurationed ESIC Medical College & Hospital, Faridabad
This will be the first ESIC Medical College and Hospital in North India. The 510 bedded Hospital will have state of art facilities.  ESIC, under the Ministry of Labour and Employment, Govt. of India provides social security to the insured persons and their beneficiaries, especially to worker population and their dependents
Laid foundation stone of National Institute of Ayurveda, Panchkula 
National Institute of Ayurveda, Panchkula is being set up at Shri Mata Mansa Devi Temple Complex in Panchkula.  It will be a national level institute for Ayurveda treatment, education and research. Once completed, it will be highly beneficial for the residents of Haryana and other nearby states
Laid foundation stone of Sri Krishna Ayush University, Kurukshetra
Sri Krishna Ayush University is the first University related to Indian system of medicine in Haryana as well as the first University of this kind in India
Laid Foundation stone of 'Battles of Panipat Museum', Panipat
The museum will honour the heroes of the various battles of Panipat. The Museum is in line with the Union Government's initiative to honour the unsung heroes of India, who have contributed greatly to nation building.
Laid foundation stone of Pandit Deen Dayal Upadhyay University of Health Sciences, Karnal
Prime Minister will lay the foundation stone of Pandit Deen Dayal Upadhyay University of Health Sciences, Karnal.
These measures are expected to give a boost to educational, health and cultural facilities in Haryana.
WATCH VIDEO: