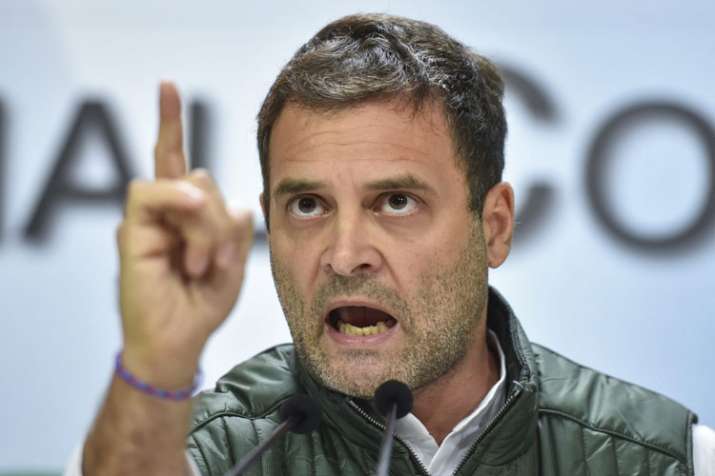 Congress president Rahul Gandhi on Monday came out all guns blazing at Prime Minister Narendra Modi and alleged that the PM lied in Amethi on Sunday during the inauguration of a Kalashnikov rifles manufacturing facility.
The PM said that in 2005 the army had raised its requirements after which work was started on this factory. "When the foundation was laid by your MP, it was said that work will start in 2010. It was his government, but it did not happen. Why believe such a person? For three years, it was not decided what kind of weapons will be made here and the land was also not made available," he said.
Attacking the Congress chief, Modi said he promised jobs to 1,500 people but only 200 could get employment and he claims he never tells a lie. "He keeps giving speeches all over the country on employment."
Countering the claim, Gandhi tweeted, "In 2010, in Amethi, I myself laid the foundation stone of the ordnance factory. From last so many years, production of small arms is taking place. Yesterday, you visited Amethi and again lied. Don't you feel shame at all?"
प्रधानमंत्री जी,

अमेठी की ऑर्डिनेंस फैक्ट्री का शिलान्यास 2010 में मैंने खुद किया था।

पिछले कई सालों से वहां छोटे हथियारों का उत्पादन चल रहा है।

कल आप अमेठी गए और अपनी आदत से मजबूर होकर आपने फिर झूठ बोला।

क्या आपको बिल्कुल भी शर्म नहीं आती?

— Rahul Gandhi (@RahulGandhi) March 4, 2019
However, Union Minister Smriti Irani, on Monday said that it is not the PM but the Congress president who lied form the people of Amethi. 
शिलान्यास नहीं सत्यानाश किया है आपने अमेठी में । झूठ कितने बोले अमेठी से आज चलें फिर से उसका पर्दाफ़ाश करते हैं। https://t.co/p53ZDl5t3h

— Chowkidar Smriti Z Irani (@smritiirani) March 4, 2019
Prime Minister Narendra Modi on Sunday addressed his first rally in Amethi, the Lok Sabha constituency of Congress chief Rahul Gandhi, since coming to power in 2014 and inaugurated a manufacturing unit for AK-203 rifles, an India-Russia joint venture.
WATCH VIDEO: