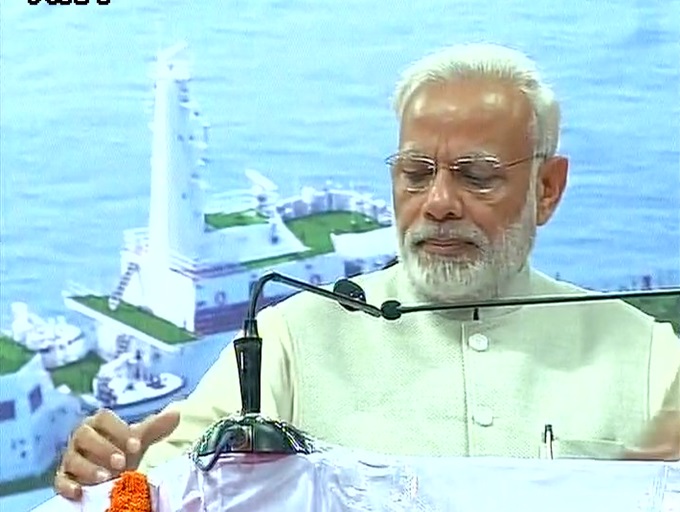 Prime Minister Narendra Modi on Sunday made an impassioned plea to the nation to give him just 50 days to weed out ill-gotten wealth in the country.
Speaking at a Goa government function near Panaji, he said his drive against corruption and black money, especially the de-monetisation, had put him in the cross hairs of those involved the illegal trade.
Modi also said that the de-monetisation drive was not the end of his campaign against corruption and black money and said that he was working on other projects to stop the malaise. 
"I know what kind of powers I have taken on. I know the kind of people who will be against me now. I am looting what they had accumulated over 70 years," Modi said in his speech at the Shama Prasad Mukherjee indoor stadium in Bambolim village near Panaji. 
"They will not leave me alive. They will destroy me. Let them do what they want. Fifty days help me. The country should just help me for 50 days," Modi added.
"This is not the end. This is not a full stop. I am openly saying, this is not a full stop. 
"There are other projects in my mind to stop dishonesty and corruption in the country. These projects are coming. 
"I am doing this for the poor, honest people for those who are working hard to survive. So that they can get their own home, their children get good education and so that their parents get care," Modi added.
Highlights of his speech: 
I want to congratulate the team here; India successfully hosted the #BRICS2016 in Goa a few weeks back: PM Narendra Modi
I laud Manohar Parikkar for ushering in a political culture in Goa- that of taking Goa to new heights of progress: PM Modi
Because of Manohar Parikkar, Goa saw political stability and formation of a Government that works for the welfare of the state: PM Modi​
WATCH: #Demonetisation process started 10 months ago says PM Narendra Modi explaining the move pic.twitter.com/sIp4x50baB

— ANI (@ANI) November 13, 2016
Its said Akbar had nine jewels in his cabinet, I am proud to say I have many including the valuable Parrikar ji from Goa: PM Modi
With the new airport, the impetus to tourism will be immense: PM Modi in Goa
As far as airport is concerned, I am happy that we are fulfilling the promise made by Atal Bihari Vajpayee. This will benefit Goa: PM Modi
A digitally trained, modern and youth driven Goa is being shaped today. This has the power to transform India: PM Modi
I also want to talk about something else in Goa-on November 8 many people of India slept peacefully & a few are sleepless even now: PM Modi
This is important step towards eradicating corruption and black money, but some people are lost in their own world: PM Modi 
The people have chosen a government and they expect so much from it. In 2014, so many people voted to free the nation from corruption: PM
If any money that was looted in India and has left Indian shores, it is our duty to find out about it: PM Narendra Modi in Goa
#WATCH: PM Modi breaks down, says "I was not born to sit on a chair of high office. Whatever I had, my family, my home-I left it for nation" pic.twitter.com/7I5meQz1tZ

— ANI (@ANI) November 13, 2016
You'll be shocked to know that many MPs asked me not to make PAN mandatory for any purchase of jewellery: PM Modi 
PM MODI NE KAHA MUJHE JINDA JALA DOGE  PHIR BHI MODI DARTA NAHI HAI ...
30 December taak mujhe samay degiye iske baad hamse koi galti ho jaaye toh mujhe jis chorahe par jo saja di jaaye mai bhugatne ke liye taiyar hu -- PM
Jinko politics karni hai karein,jinka loot chuka hai wo rote aur aarop lagate rahein;lekin mere honest deshwasi sirf 50din saath chaliye: PM
Jinko politics karni hai karein,jinka loot chuka hai wo rote aur aarop lagate rahein;lekin mere honest deshwasi sirf 50din saath chaliye: PM

— ANI (@ANI) November 13, 2016
This is Modi's second visit to the state in two months; he hosted the BRICS summit in October this year.
Of the two projects being kick-started by Modi, the Mopa airport is Goa's first civilian airport and is being developed by GMR Airports and the electronic city is expected to host manufacturing units for electronics components, envisaged under the Make in India scheme.
After delivering his address in Goa, Modi is expected to head for Pune, where is scheduled to inaugurate a four-day international conference and exhibition on enhancing the sugarcane value chain.