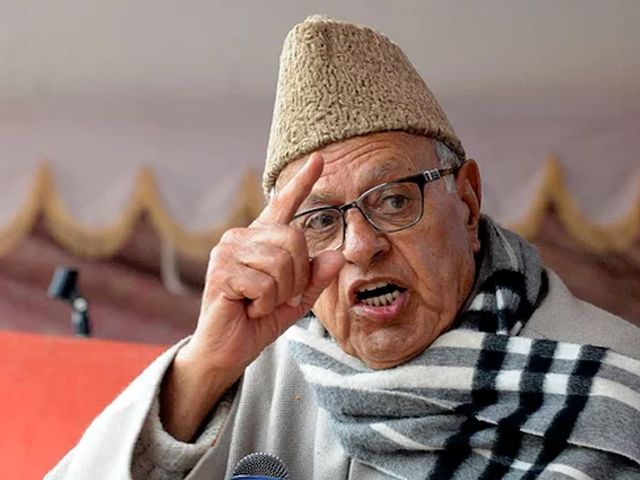 National Conference (NC) leader Farooq Abdullah on Tuesday dismissed BJP's allegations of the Congress colluding with Pakistan to defeat the BJP in the recently-concluded Gujarat Assembly elections, saying that "Pakistan koi saazish nahi karta (Pakistan never conspires)."
Abdulla's defence of Pakistan came when he was asked about the controversy that erupted after Prime Minister Narendra Modi alleged that his predecessor Manmohan Singh and senior Congress leader (now suspended) Mani Shankar Aiyar had met with Pakistani officials over dinner and conspired to influence the Gujarat assembly elections. 
He further said that PM Modi himself had gone to Pakistan for a meal when he had paid a surprise visit to Lahore and attended former prime minister Nawaz Sharif's grand daughter's wedding ceremony. 
"He himself went to Pakistan for a meal, did he map out a controversy over his meal there?" he said. 
Speaking on the Assembly election results in which BJP claimed clean victory in both Gujarat and Himachal Pradesh, Abdullah, without naming Mani Shankar Aiyar, said that the Congress would have won Gujarat elections, had some of its leaders avoided using wrong words.
"I do not want to take any names, but if some people wouldn't have said certain wrong things then the Congress would have won in Gujarat," Abdullah said, suggesting that Congress lost due to Aiyar's "neech aadmi" remark against PM Modi. 
Regarding Himachal Pradesh's result, the NC president said it was nothing new for the state as it was a regular pattern there.
"In Himachal Pradesh, one party unseats the other every five years, it is nothing new," he told media before entering Parliament house to attend winter session.