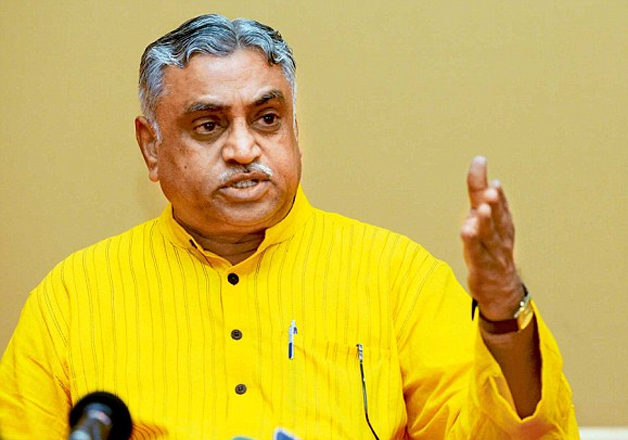 A number of opposition leaders have slammed Rashtriya Swayemsevak Sangh (RSS) senior functionary Manmohan Vaidya's remarks against reservation.
Vaidya, head of the RSS communications department, said at Jaipur Literature Festival (JLF) on Friday that no reservation should continue for long and the reason for the poor socio-economic status of the Muslims is that a vast majority of them belong to economically backward states.
Vaidya and RSS Joint General Secretary Dattatreya Hosabale were participating in a discussion on "Of Saffron and the Sangha", at the JLF. 
Reacting to Vaidya's remarks, Rshtriya Janata Dal (RJD) chief Lalu Prasad said reservation is a Constitutional right, not a donation by a "casteist organisation like the RSS".
"RSS should analyse its own in-house reservation first. Why no Dalit, backward, lower caste or woman ever became RSS chief?" Lalu posted on his Twitter handle.
Janta Dal United (JD-U) Spokesman K.C. Tyagi said his party "strongly condemns such suggestions of interference in the current reservation policy", as it would "hamper the constitutional rights" of Scheduled Castes, Scheduled Tribes and other backward castes. 
"Such statement made by BJP and RSS leaders fall against the spirit of constitution and also violates the constitutional article-part 4 of 46, which states about the promotion of educational and economic interests of scheduled castes, scheduled tribes, and other weaker sections," Tyagi said. 
Delhi Chief Minister Arvind Kejriwal said he would not let the "anti-Dalit" RSS and BJP end reservation at any cost.
"RSS has repeated today (Friday) that it is against reservations. BJP , RSS and Akalis are anti-Dalit. We won't let them end reservations at any cost," Kejriwal tweeted.