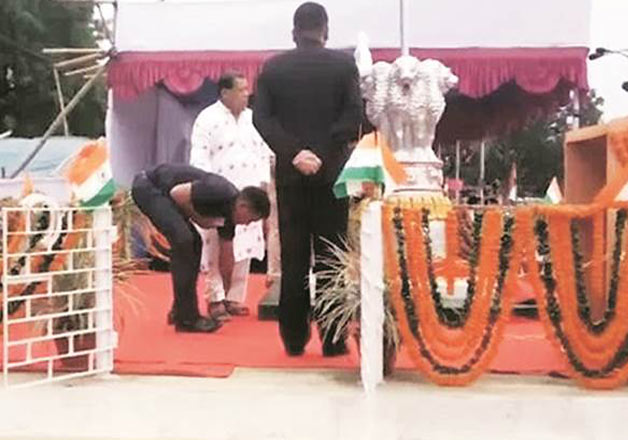 The Odisha minister who caused a major embarrassment to the state government on the 70th Independence Day by demanding that his personal security officer (PSO) tie, and later untie, his sandal straps during the I-Day celebrations in Keonjhar district, has now said that the PSO was like his son and had volunteered for the job as he has pain in the knee.
"My left leg is in a lot of pain, I can't bend, hence PSO volunteered to tie my shoe laces. He is like my son," minister Jogendra Behera told ANI.
"In fact, I have been consulting a doctor in AIIMS in Delhi, can show you prescriptions," he added.
Behera was the chief guest in the Independence Day celebration at the district headquarter town of Keonjhar and hoisted the tricolour. After unfurling the national flag his PSO was seen tying his sandal straps.
#WATCH: Odisha Minister Yogendra Behera makes PSO tie his sandal straps in public in Kendujhar, says 'I am a VIP'https://t.co/yB0ZUslWxt

— ANI (@ANI) August 16, 2016
After local news channels aired the video, the state Micro, Small and Medium Enterprises minister said, "I am a VIP. I have hoisted the flag, he (PSO) has not done it." 
I am a VIP. I've hoisted the flag here; he (PSO) has done that (tied the sandal strap): Odisha Min. Yogendra Behera pic.twitter.com/elrldh7NlJ

— ANI (@ANI) August 16, 2016
The incident and subsequent statement of the minister faced criticism from many quarters including the civil society members.
"A government employee tying shoelaces of the minister shows existence of British rulers' mindset in Odisha," said Prahallad Singh, an advocate.
There was no comment by the government on the incident.
(With agencies)