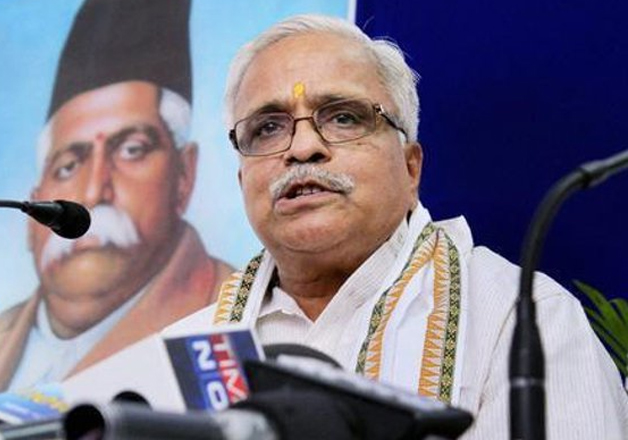 The Rashtriya Swayamsevak Sangh (RSS) today asked the Muslim community to give a serious thought to the issue of abolishing triple talaq and expressed hope that  women who have moved the court seeking an end to the practice will secure justice.
"The triple talaq issue is an internal problem of Muslims and in this context the Muslim community should seriously think over it. In the present era there should not be any kind of gender-based discrimination. On talaq issue, women have gone to court and we expect they get justice properly," general secretary Bhayyaji Joshi told reporters here. 
"The Muslim community should also think and decide on it. We feel that there is a need that the court should also give (its) views on this matter through human perspective," Bhayyaji Joshi added.
The triple talaq is a Sharia law practice which allows men to end a marriage, simply by saying "talaq" — or divorce, to their wives, three times in succession.
The matter is at present pending before the Supreme Court where government has made it clear that it favours abolishing the process, holding it as discrimination against women and against the constitutional right of equality.
On Uniform Civil Code, Joshi said, "We have been stressing that to stop any kind of discrimination in personal life it should be done through law without disturbing social fabric. Law Commission has sought opinion on UCC and the Commission should consider the viewpoints (of public) and based on it, the Commission has to spell out its opinion.. that is what we feel." 
Reacting to a query on surgical strikes, the senior RSS leader said, "In our country we are experts in politicising on any issue. Government has to take a decision which it took and the Army has to take action which it did." 
"We need to appreciate the present (NDA) government for taking a decision for surgical strikes and at the same time the surgical strikes were conducted on Army's might. Hence, the army and the government, both are commendable for the surgical strikes...that is what we feel," he said. 
Asked about RSS' stand on Pakistan artistes, Joshi said, "If the Pakistani artistes say that they don't want to work in Indian movies then why India is so eager on welcoming them."
"Do we have scarcity of artistes in India?" he added.
Reacting to another query, on call for boycott of Chinese goods on social media, Joshi said, "Our stand has been that we should buy only Indian goods. Why only Chinese? When the alternatives (of products) are available. But, there are certain products for which alternatives are not there and we don't say." 
"We have been saying that not only Chinese products but people should purchase natural products made in India and that stand continues," Joshi added. 
At various social media platforms, a campaign calling to boycott the Chinese goods has gained momentum in last few days. 
Wholesalers in India's largest wholesale market Sadar Bazaar have already claimed that they are seeing a drop of at least 20 per cent in Chinese made products. The Confederation of All India Traders recently predicted that the traders expect they will suffer at least 30 per cent loss due to the boycott of Chinese-made products. 
With PTI Inputs