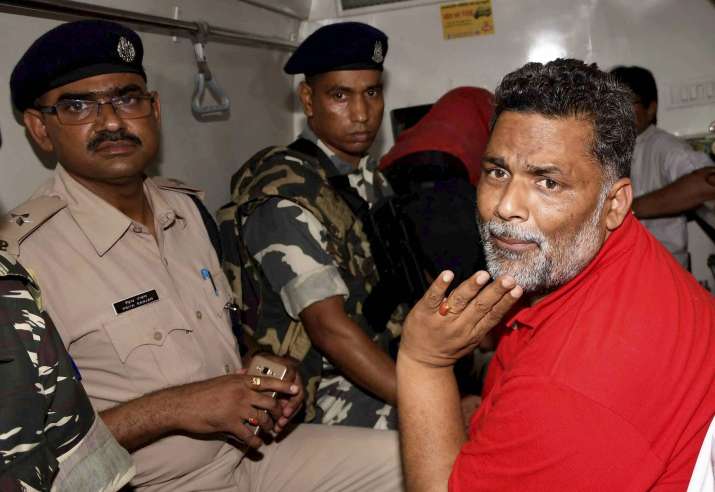 Madhepura MP and Jan Adhikar Party-Loktantrik (JAP-L) patron Rajesh Ranjan alias Pappu Yadav was on Monday arrested by the Patna police after a high-voltage drama at his residence in the state capital.
The drama continued for more than four hours at the parliamentarian's residence in Mandiri locality of the state capital, hours after his supporters clashed with police during a protest march towards the state assembly earlier in the day.
Patna police said Pappu Yadav was arrested in a two-month case of creating law and order problem here. 
The MP was arrested from his residence at Mandiri area in Patna after acquiring arrest warrant from the CJM's court, Deputy Superintendent of Police Kailash Prasad told PTI tonight. 
The case in which the Janadhikar Party MP was arrested was registered with Gandhi Maidan police station in January this year.
The step against Yadav was apparently taken after he provoked his party workers to attack the police teams trying to stop them from proceeding towards the assembly. They were staging a dharna over various issues including the proposed power hike and paper leak in BSSC examination.
The high-voltage drama to arrest the former RJD leader began around 5 pm when a police team of nearly 500-armed police personnel led by the DSP Shibli Nomani reached Yadav's residence. Surrounded by hundreds of supporters, the MP declared that he would not allow police to arrest him without a warrant of arrest.
The supporters continued to raise slogans and did not allow the police to take away the leader before 9 pm when another DSP Kailash Prasad the MP's house with an arrest warrant issued in an old case.
The case pertains to creating nuisance around Kargil Chowk two years ago.