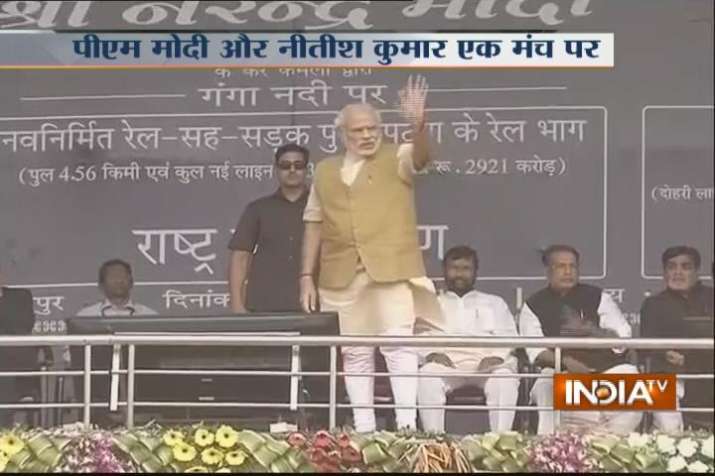 Hajipur: Prime Minister Narendra Modi and Bihar Chief Minister haven't shared an ideal political or personal rapport. Today, on his visit to Bihar, both Modi and Nitish shared stage and were indulging in a conversation with both leaders seen bearing broad grins.
Pleasantries aside, both leaders are known to share a political rivalry with the Bihar CM breaking his party's alliance with the BJP in Bihar over Modi's anointment as the NDA's PM candidate. While BJP may have lost bitterly to the Nitish-Lalu Yadav combine in the recently held state elections, Modi's popularity does not seem to be fading in the eastern state.
At the inauguration of the Digha-Sonepur rail-cum-road bridge in Hajipur, Nitish rose from his seat to address the gathering but soon after he started speaking, he was greeted with loud chants of 'Modi Modi' from a section of the crowd. This even forced Nitish to discontinue speaking for a while (he was talking about Centre and state collaborating for Bihar's development).
It was then that Modi was seen in an attempt to stop the crowd from chanting his name.
In a gesture for supporting Nitish's speech, PM stood forward on the stage and appealed to the crowd for not repeating his name and listen to what their CM is saying.
In a support for seeking Modi's help Nitish said, "The Centre and the state government will together help accelerate growth,"
"I can guess the importance of this bridge looking at the excitement of the people here," the PM added.
"This project was initiated When Nitish Kumar was the railway minister and Atal Bihari Vajpayee was the PM and now it is being completed," he said.
PM Modi also added, "This money belongs to people. Some or the other reasons crop up in our country that the process of development gets derailed."
Modi and Nitish also flew to Hajipur from Patna in the same helicopter and shared the stage with other leaders too.
Watch Video Here: