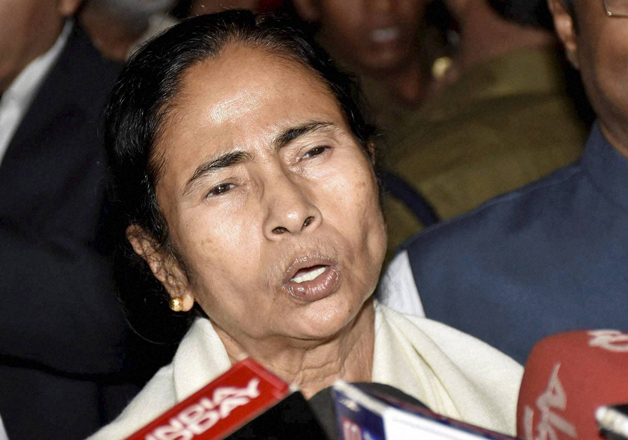 West Bengal Chief Minister today stepped up her attack on the Centre over demonetisation and dubbed the drive as 'super Emergency'.
"The government has taken away the freedom from the people that they have been enjoying for the past 69 years. The government has snatched 'Roti, Kapda aur Makan' from the people... A people's movement was started during the Emergency days... Today, the situation is even worse than Emergency, it can be termed as super Emergency," the TMC supremo said. 
"People are facing difficulties and inconveniences. They (NDA government) have sold the country. It is the duty of political parties to raise their voice for the people and we will continue with our agitation till the government takes adecision to roll back the demonetisation move," she added. 
Mamata was addressing a gathering here in the course of her party's nationwide campaign against demonetisation. 
Raising the issue of funding of Prime Minister Narendra Modi's public meetings in foreign countries, she asked, "From where do they get money to hold such mega public meetings in foreign countries like the US?" 
She also raised issue of registration of land by BJP in Bihar for opening offices in districts.
Questioning the Prime Minister's intention to fight black money and  corruption, she said, "How could BJP buy huge chunks of land in the month of September, a few weeks before the announcement of demonetisation on November 8." 
On Janata Dal (United) backing the demonetisation, she said, "If someone comes with us, then it is good. But, it certainly pains us if someone is not with us in the struggle for common people. This is people's cause. People will not forgive 'gaddars' (betrayers)." 
The ruling JD(U) has already made it clear that it would not be present at Banerjee's agitation programme in the light of Bihar Chief Minister Nitish Kumar's support to demonetisation.
The TMC supremo, who arrived in the state capital yesterday, also met RJD chief Lalu Prasad Yadav at the latter's residence. 
With PTI Inputs