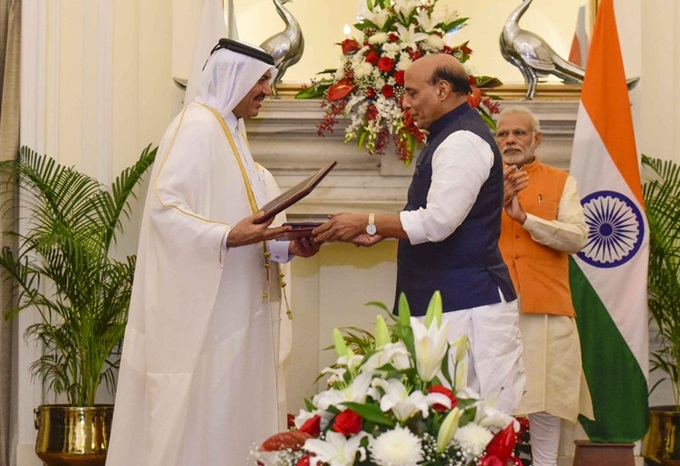 India and Qatar on Saturday signed agreements in various fields including visas, cyberspace and investments, Ministry of External Affairs said.
Besides, a MoU aimed at encouraging greater collaboration and exchange in field of national ports management of India and Qatar was also signed, External Affairs Ministry spokesperson Vikas Swarup informed via tweet.
Four Forward! The leaders witness exchange of four agreements in the fields of visas, cyberspace and investments pic.twitter.com/ITbmEWBjai

— Raveesh Kumar (@MEAIndia) December 3, 2016
Additionally, another MoU aimed at encouraging greater collab'n & exchange in field of national ports management of #IndiaQatar also signed

— Raveesh Kumar (@MEAIndia) December 3, 2016
Earlier, Prime Minister Narendra Modi and his Qatari counterpart Sheikh Abdullah bin Nasser bin Khalifa Al Thani led delegation-level talks at Hyderabad House in New Delhi on Saturday.
Al Thani arrived here on Friday in what was the third exchange of high-level visits between India and the Gulf nation in less than two years.
Qatari Emir Sheikh Tamim bin Hamad Al-Thani visited India in March 2015 which was followed by the visit of Modi to that Gulf nation in June 2016.
India enjoys close and friendly relations with Qatar, which are based on mutually beneficial commercial exchanges and extensive people-to-people contacts. 
Qatar is not only an important trading partner for India in the Gulf region but is also the largest supplier of LNG, accounting for 66 percent of the total imports in 2015-16.
Indians form the largest expatriate community in Qatar and their positive contribution in the progress and development of their host country is well recognised. There are over expatriate 630,000 Indians in Qatar.
On Friday, soon after his arrival here, Al Thani addressed a meeting of Indian business during which he called for boosting of bilateral economic and trade ties.
Addressing the inaugural meeting with Indian businessmen, Al Thani emphasised that India and Qatar were bound by a historically good relations stretched over hundreds of years, according to a statement issued by the Qatari embassy here.
He said that that economic issues top the priorities of Qatar and India and hence, the two countries with their diverse and different political systems were striving to strengthen the role of the private sector and go across their innovations far from any restrictions. 
He further said that India was considered to be among the five top trade partners of Qatar as the trade exchange between the two countries exceeded $10 billion.
(With IANS inputs)