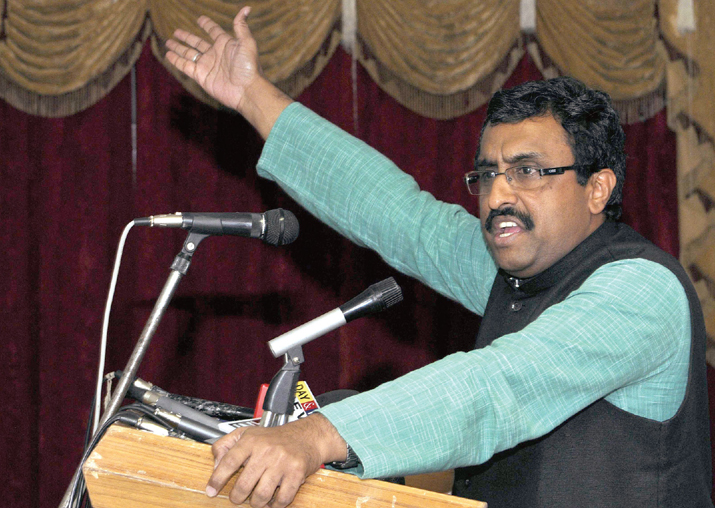 India has given up its "strategic reticence" under Prime Minister Narendra Modi's leadership and emerged as an "active and ambitious" global player, senior BJP leader Ram Madhav said today. 
Madhav said the NDA government at the Centre had also put an end to the country's earlier "hyphenated foreign policy". 
India deals with other countries on a bilateral basis, which helps strengthen New Delhi's ties with them, he said at a session themed 'The Emerging Security Dynamics in Indo-Pacific' region at Raisina Dialogue, a high-level global conference being held here. 
In the earlier "hyphenated foreign policy", Madhav said, Indian leaders had to keep in mind sentiments of other countries while meeting a leader of a particular nation.
"In this new emerging scenario, India has to give up its strategic reticence...I am glad to share with you that in the last three years under Prime Minister Narendra Modi's leadership we have given up the strategic reticence and we have emerged as an active, ambitious global player," he said. 
The BJP leader also said with a new power scenario emerging across the world, an Asia-centric approach -- and not the "American way" -- would guide developments in the Indo- 
Pacific region, stressing that India's rise as a global power would be for universal "good". 
Madhav noted that countries such as China were marching ahead with "21st Century Marshall Plans" for the Indo-Pacific region and said India could not remain a "mere spectator" at 
such a juncture but had to be a stakeholder country. The Marshall Plan was an American programme for giving aid to Western Europe after the second World War. 
The event was also attended by Australian Defence Industry Minister Christopher Pyne, Singapore's Senior Minister of State for Defence and Foreign Affairs Dr Mohamad Maliki Bin Osman and US National Security Council (NSC) official Nadia Schadlow. 
"In this new emerging power scenario, the old alliances and old institutions of the 20th Century are becoming irrelevant and ineffective. The so-called American ways will not probably guide affairs in the region. The future of the global institutions will be taking shape in the light of the experiences and wisdom of this (Asia-Pacific) region. It will be an Asia-centric approach hereafter," Madhav stressed. 
Talking about the "realisations" India had at the advent of the new century, Madhav said New Delhi had a stated ambition of rising as an influential and responsible global power and was keen to play a "proactive" role in international affairs. 
"The world should realise India's rise will be for the good of the world and for the peace of the world," he said. 
NSC official Schadlow said US's new national security strategy recognised the "centrality" of the US-India strategic partnership and talked about India's "unique" status as her country's major defence partner. 
"This partnership is a cornerstone of American foreign policy in the region," she said. 
On his part, minister Pyne said Australia was for balanced relationships with other country. He added that his country did not want any particular nation to be "greater or more powerful" than another. 
"We want everyone to respect each other's role (in theIndo-Pacific region)," he said. 
Minister Osman of Singapore said terrorism, extremism and cyber-crimes were of transnational concern and stressed no country could combat those single-handedly, as he pitched for collective efforts to deal with the challenges. 
He observed that there was a "wave of populist nationalism" developing across the globe. In this light, Osman said, the key challenge for the governments would be to strengthen collaborations for "win-win outcomes". 
According to the Twitter handle of the Observer Research Foundation (ORF), which organised the conference, Schadlow said US would not turn a blind eye to "economic aggression" by any country. 
She said the new US national security strategy looked at geopolitics in a realistic way and the US's vision for Indo-Pacific excluded no nation. 
"US #NSS reflects the importance and uniqueness of India. India is a pillar for a free and open Indo-Pacific," she said. 
In another tweet, she was quoted as saying, "Trump believes that the answer to #Afghanistan lies in the larger South Asian region. US will rethink its many relationships in South Asia. #Raisina2018."