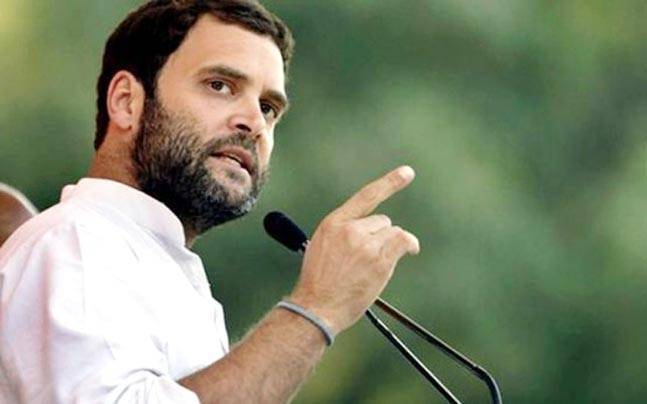 Hours after allegations of bribery rocked the Gujarat unit of the Bhartiya Janat Party, Congress vice president Rahul Gandhi on Monday said that Gujarat was priceless and that it could never be bought.
"Gujarat is priceless. It has never been bought. It can never be bought. It will never be bought," Rahul Gandhi said on Twitter referring a claim by Patidar leader Narendra Patel.
Patel, a local convenor of the Hardik Patel-led group campaigning for reservations for the Patel community, alleged that he was offered Rs 1 crore to join the Bharatiya Janata Party (BJP).
He also claimed that was given Rs 10 lakh advance on Sunday itself and was promised that the remaining Rs 90 lakh will be given to him on Monday.
The Congress vice president is visiting poll-bound Gujarat today, where he is expected to meet Patel quota agitation leader Hardik Patel and Dalit leader Jignesh Mevani.
Gandhi will take part in 'Navsarjan Gujarat Janadesh' rally organised by his party in Gandhinagar, where OBC leader Alpesh Thakor will join the Congress.
"Rahul Gandhi will be coming to Ahmedabad tomorrow (Monday). We have invited Hardik Patel and other leaders of the Patidar Anamat Andolan Samiti. They had given a memorandum to us and we are positive about their demands," Congress' state unit president Bharatsinh Solanki said on Sunday.
"Rahul-ji will hold a meeting with them before the rally and discuss all the issues and will invite them to support the Congress," Solanki said.
The bribery claims by Patel against the BJP came hours after he announced on Sunday evening that he was joining the saffron party.
Patel, however, flipped sides and alleged that he had been offered Rs 1 crore by the BJP through Varun Patel who had recently switched over to the saffron fold. He has denied the allegation.