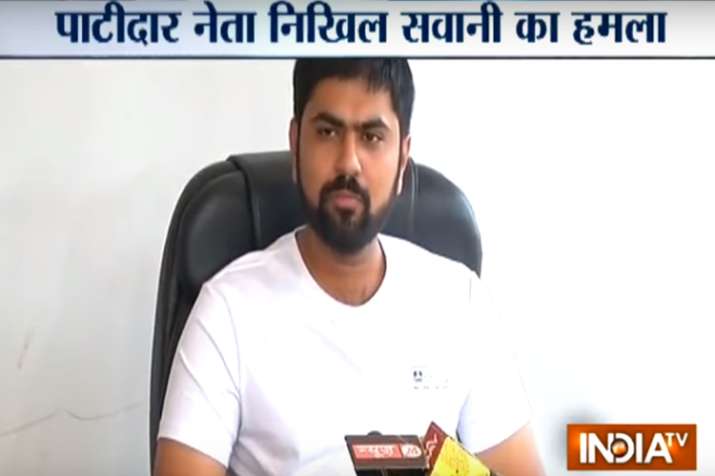 In what comes as a second blow to the Bharatiya Janata Party's (BJP) ambitions in the poll-bound state of Gujarat, another former local convenor of Hardik Patel's Patidar Anamat Andolan Samiti has quit the saffron party, alleging that the BJP is offering bribes to other Patidar leaders to shift loyalty. 
Nikhil Sawani, a local Patidar community leader, had joined BJP on September 25, after parting ways from Hardik Patel around a year ago. He said that he is now resigning from the BJP because the party has failed to fulfil its promises. 
Nikhil's allegations come a day after Narendra Patel, a senior member of the Hardik Patel-led group campaigning for reservations for the Patel community claimed in a late-night press conference that he was offered Rs 1 crore to join the saffron party. 
Patel has also alleged that the BJP leaders had paid him an advance amount of Rs 10 lakh and promised to pay him the balance Rs 90 lakh on Monday.   
Narendra Patel made the claim hours after he had announced on Sunday evening, in the presence of Hardik Patel's former aide Varun Patel who had crossed over to the BJP on Saturday, that he was joining the BJP.
"I heard about Rs 1 crore offer by BJP to Narendra Patel. I am upset, leaving BJP today," said Sawani.
"I resigned because they are just offering lollipop and fulfilling no promise... The (Patidar) community will not forgive the BJP... I was not offered money to join the BJP," he added. 
Sawani also heaped praise on Narendra Patel for exposing the issue of money being offered. 
"I congratulate Narendra Patel. He comes from a small family but still he didn't choose Rs 1 crore: Nikhil Sawani says he resigns from BJP," he added.
Talking about the differences with Hardik Patel following which he had left PAAS, Sawani said that the differences had been resolved and he would go back to him. 
Meanwhile, Hardik Patel's key aides — Varun Patel and Reshma Patel — joined the BJP in a dramatic turn of events on Saturday. Narendra Patel has alleged that it was Varun Patel, who had facilitated his turning towards BJP.
Varun, however, denied the allegations made by Patel and said that this was a conspiracy hatched by the Congress, which he said, is losing the support of the Patidar community in poll-bound Gujarat. 
While PAAS chief Hardik Patel has refused to join Congress, Sawani says he is open to meet Congress Vice-President Rahul Gandhi.