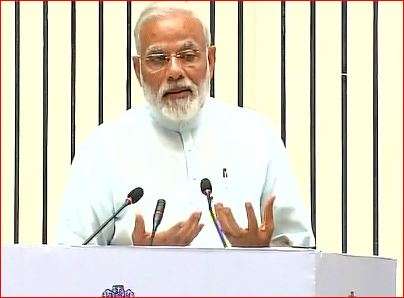 Prime Minister Narendra Modi on Friday made it clear that he did not lack the political will needed to carry out reforms in the country.
The Prime Minister asked civil servants to break silos and work together as a team to perform and transform. 
Addressing bureaucrats on the civil services day, he said that time has come for out of the box thinking and from being a regulator, the government needed to become an enabler.
"Political will can reform but bureaucracy performs and public participation transforms. We have to bring them in one wavelength," he said.
"To reform, political will is needed. I do not lack it and may be having a bit extra," the Prime Minister said.
Mr. Modi said that senior officers should introspect if their experience is becoming a burden.
He said hierarchy in bureaucracy remains an issue which has been inherited from colonial rulers and "was not left behind in Mussoorie (where civil service academy is located)".
The Prime Minister said the role of the government was very strong but things have changed since the last 15 years.
He also asked the civil servants to use social media, e-governance and mobile governance for the welfare of the people by reaching out to them.
Prime Minister Narendra Modi further said that the government needs to change its role from being a regulator to an enabler.
The Prime Minister pointed out that earlier people depended on government for almost everything as there was no competition.
He, however, added that things have changed now as we enter into an era of competition.
"Things have changed vastly in the last 15-20 years. Earlier, government was everything. General public depended on the government for all their needs. But now they have an alternative," Modi said.
Citing examples of private hospital and airlines, Modi said people have been criticising public services and tend to be more satisfied by private services.
"Moving away from the time when government was everything, we are now in an era of competition." 
Because there were now alternatives available, the government's responsibilities have grown, he added. "Its not the work load, it is the challenge that has risen. 
"The sooner we change our working style, change our way of thinking, the better. The sooner we come out of our role of a regulator and develop as an enabling entity, the better," he added.
(With agencyinputs)