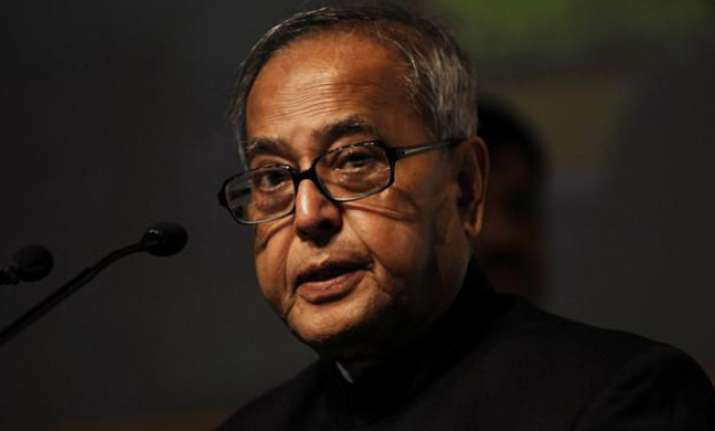 President Pranab Mukherjee today exhorted students of premier institutions like IITs and NITs not to restrict themselves to merely earning good salaries and leading a comfortable life.
Instead, he asked them to extend help to their communities as well using their sound knowledge.
The President also pointed out that their success would measured by the amount of good solutions that they provide to their communities.
 "I would like to advise you that the skills which you have acquired, the knowledge which has been instilled in you...That need not necessarily be settled for a comfortable life or a high salary package to promote the product of a particular multi-national company where salesmanship is important," the President said while delivering the first convocation address of National Institute of Technology (NIT) in Delhi.
"But surely, an engineering graduate from institutions like NITs and IITs are something more than that. Your success will be measured not merely by how much you are earning and providing comfort to your family and to other members of your family but much more," he added.
"How many papers you are reading, what initiatives you are taking in research, what benefits and facilities you are providing to your community based on scientific and technological knowledge. That will be the measurement (of success) of the students coming out of first grade engineering and technical institutions," he said.
Mukherjee said after the convocation ceremony today the students will be on their own in the competitive world but they should never feel nervous.
"The knowledge that you have acquired and the skills that you possess will make you capable to face the problems and challenges of the outside world with courage and conviction," he told the students who graduated in various streams of engineering like computer science, electronics and communication engineering.
Mukherjee, who has himself been a teacher before he took the political plunge, asked the young minds to keep their feet on ground as he told them that knowledge will give them the power to live with "modesty and humility."
"Never believe you have learned everything in life... In real life, you will learn everyday..It is an eternal process," he said.
The President said with almost 50 per cent of India's population in the average age group of 25 years, it was a great asset for the country that can be converted into tremendous wealth and opportunities.
During the event, NIT Director Ajay K Sharma chronicled the journey of the institution beginning from 2010 even as the President awarded gold medals and the Director's medal to the toppers.
Talking about the progress of the country vis-a-vis its human resource development, Mukherjee said India has developed "remarkably" after Independence and the country can soon count itself amongst the advanced countries of the world.
"What gives me confidence is capability, skill and talent of our centres of higher education," he said.
He also talked about various initiatives started by the government like the Swachh Bharat Abhiyan and Digital India for the progress of the country.
Mukherjee also talked about having a competent faculty for the educational institutions.
(With PTI inputs)