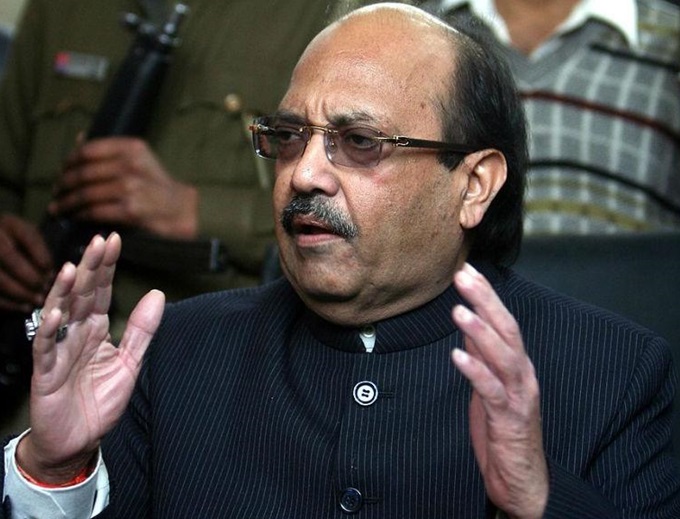 Refuting the allegations of causing the feud between Mulayam Singh Yadav and Akhilesh Yadav, veteran politician Amar Singh on late Saturday said that it was wrong to blame him, adding that he did not want anything from the party and wanted to be left alone.
Speaking to ANI from London, Singh said, "Some people are putting up bad posters of me, burning my effigies. They think I'm so powerful that I can create conflict from any corner of the world. Some people are blaming me for the family feud in Samajwadi Party."
Watch what all he said here:
#WATCH London: Amar Singh reacts on allegations that he is behind feud in the Samajwadi Party pic.twitter.com/gy6g3cKiKT

— ANI UP (@ANINewsUP) January 1, 2017
Earlier in the day Amar Singh praised party president Mulayam Singh Yadav for revoking the expulsion of his son Akhilesh Yadav and brother Ramgopal Yadav and termed it a correct step.
Amar Singh further said that the conspiracy to break the Samajwadi Party has 'failed'.
 "Mulayam Singhji has done the right thing. He has given a message through his decision that he will not let either the Samajwadi Party or his family break till he is alive. The conspiracy of the people who wanted the party and the family to break has failed," he said. 
Singh also clarified that he does not want to break the party. 
Congratulating Chief Minister Akhilesh Yadav and SP General Secretary Ramgopal Yadav, he said, "Those who had this misconception that I will try to break the party, I would like to tell them that I am not here to break the party. instead I want to keep it united." 
"If somebody is still hurt due to me, I want to tell that I am ready to sacrifice myself to ensure unity in SP pariwar and the workers," he said. 
"We have to fight the communal forces and ensure that secular front is victorious in the upcoming elections," Singh added.
On Friday, Mulayam had expelled Akhilesh and Ram Gopal Yadav from the party for six years over indiscipline. This move came after Akhilesh had released a list of 235 candidates out of the total 403 seats for upcoming state assembly elections on Thursday, rejecting the list announced by Mulayam Singh Yadav on Wednesday.