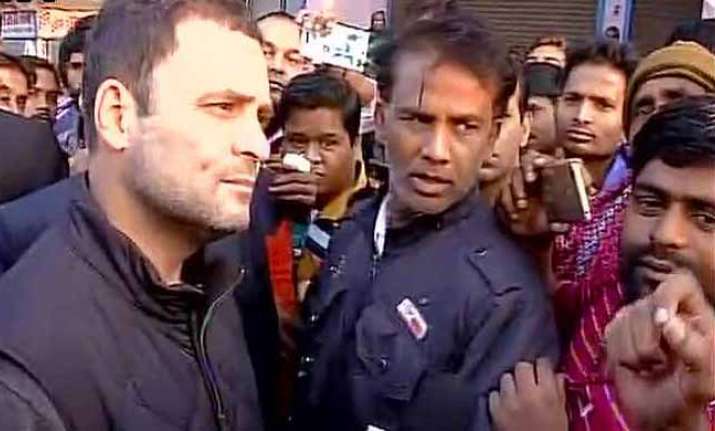 After protesting inside parliament for three days of winter session over banning of Rs 500 and Rs 1000 notes, a united opposition is now vying to corner government outside Parliament through a joint agitation.
Congress vice president Rahul Gandhi on Monday took stock of banking and ATM services in Delhi post Centre's announcement to ban old currency notes of Rs 500 and Rs 1000 on November 8.
According to ANI, the Congress vice president visited city's Jahangirpuri, Inderlok and Zakira areas and interacted with the people standing in queues outside ATM machines.
"We have decided that henceforth whatever has to be done by the Opposition on the issue, should be done unanimously. We will sit tomorrow to chalk plans for joint protest by the Opposition on the issue both inside and outside Parliament," a senior Opposition leader told The Indian Express
Opposition leaders will meet on Monday morning and are likely to raise the demand of a joint parliamentary committee probe into the allegations that the move - billed as one to curb tax evasion and corruption - had been selectively leaked to the BJP and its "friends".
The Congress has issued a whip to its parliamentarians to attend the parliament while leaders of opposition parties are expected to meet to chalk out a joint strategy.
Sources in the opposition camp said there is unanimity among all parties on the need for a comprehensive investigation into prior intimation of the decision to some people, allowing them to convert their unaccounted wealth.
"Many parties are determined to take this matter of selective leakage to the masses and jointly take on the government in parliament. There are other worrisome aspects of the demonetisation decision which we will raise in both Houses of parliament," a senior opposition leader said.

The Congress is leading the deliberations with Leader of Opposition in the Rajya Sabha Ghulam Nabi Azad and Deputy Leader Anand Sharma coordinating with other opposition parties.
Sources said all outfits including the Trinamool Congress, Janata Dal (United), Bahujan Samaj Party, Samajwadi Party, Nationalist Congress Party and Left parties are on the same page on the issue and will step up their offensive in both Houses. A senior Congress leader said a whip has been issued in both Houses to ensure the presence of all members.
After the opposition leaders' meeting, Congress will hold its own strategy meet with its lawmakers. Congress Vice President Rahul Gandhi is expected to chair the meeting.
The opposition had stalled proceedings in both the Houses last week - the first of the Winter Session - demanding Prime Minister Narendra Modi's response in the matter.