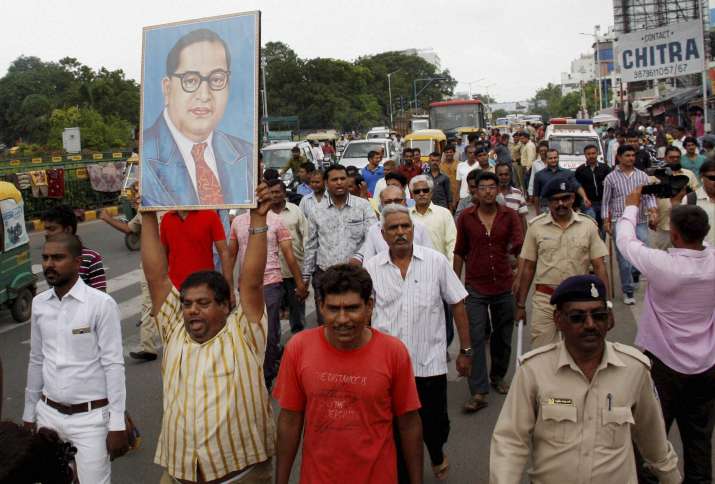 Delhi Chief Minister Arvind Kejriwal on Sunday said that all Dalit MPs belonging to the Bharatiya Janata Party should resign to protest the assault on the community by "BJP goons".
"Udit ji and all Dalit MPs of BJP should resign in protest against countrywide assault on the Dalits by BJP goons", he said on Twitter.
Kejriwal's remarks come in the wake of BJP MP Udit Raj's statement on Saturday where he said that Hinduism was in "danger" not because of conversion but because of its "so-called protectors".
There were reports recently that following denial of permission to the Dalits by upper caste Hindus to conduct rituals at the ancient Badrakaliyamman temple at Nagapattinam, during the Tamil month of Adi, some Dalits had planned to embrace Islam.
The Nagapattinam district administration had later denied the report.
Raj said if the doors of temples are closed for Dalits then they would go to Church, Mosque, and "we would not be responsible for that".
"...and then those people (the custodian of Hindu religion) have problems with Dalits entering Church or Mosque. They say Hindu religion is in danger. It is because of them only and not because of us (Dalits)," Raj, who is national chairman of All-India Confederation of SC/ST Organisations, said.
He claimed that in countries like Burma, Thailand, Iran, Phillipines, Kazakhstan and Afghanistan, the Hindu population has decreased significantly, and "its difficult for Hindu religion to survive in India also and we will not be responsible for that."
Asked about the recent atrocities on Dalits, he said, "Wherever such situations occur, it should be condemned and everyone should come forward to fight against it.
"I am suprised...Why only Dalits come forward whenever atrocities happen against them?" he asked.
He also said that whosoever "may be in power, attacks on Dalits have been going on and the only difference is in quantity".
Meanwhile, BJP's Dalit MPs have urged the NDA government led by Prime Minister Narendra Modi and the party leadership to send a "strong message" over the recent vigilantism by gau rakshaks that have targeted Dalits and Muslims in the country, according to a report by the Indian Express.
The MPs have described the attacks on Dalits and minorities in the name of gau raksha as "goondagardi" and a "blot on humanity and the country."
"They should know how to protect cows. Protection of cows involves rearing them, proper breeding, ensuring they eat healthy and get water to drink," the newspaper quoted Yashwant Singh, the MP from Uttar Pradesh's Nagina.
"You cannot limit your cow protection to assaulting the Dalits who skin the dead cows. It's their job and this society gave them that job," Singh said.
"You should at least know the truth before you indulge in such activities," Kaushal Kishore, MP from Uttar Pradesh's Mohanlalganj said. "All the state governments, whether it is Gujarat, Madhya Pradesh, Rajasthan or Uttar Pradesh, should deal with this strictly and take action against such committees," he said.
This comes a day after Ramdas Athawale, a Union Minister in BJP-led NDA government said the protection of cows should not be at the expense of human lives.
The chief of Republican Party of India (RPI), Athawale said "I want to ask gau rakshaks: There is a law against gau hatya (killing of cows), you continue with gau raksha (protection of cows) but why do manav hatya (killing of human beings)? If you do gau raksha, who will do manav raksha (protection of human beings)?"
Athawale was recently inducted into union cabinet by Modi and was made Minister of State for Social Justice and Empowerment.