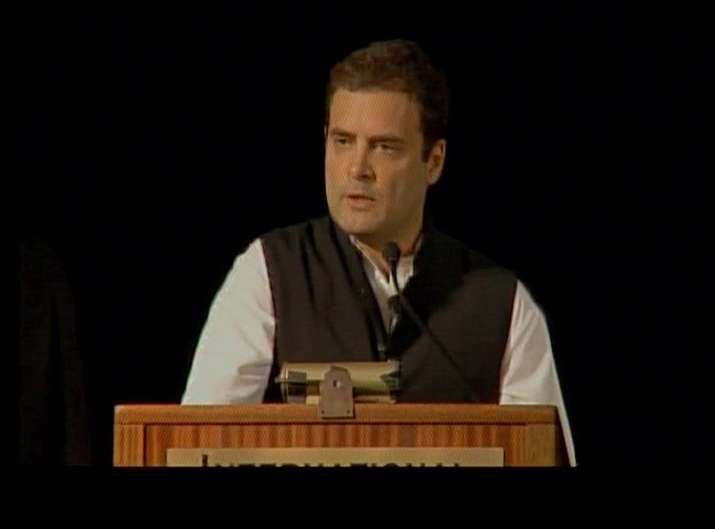 Congress vice-president Rahul Gandhi on Tuesday attacked the BJP-led NDA government at the Centre over its economic policies and said that Prime Minister Narendra Modi's decision to scrap Rs 500 and Rs 1,000 currency notes and 'hasty implementation' of GST has led to decline in economic growth. 
"It cost us two per cent loss in GDP (gross domestic product)," the Congress leader said in response to a question at an event at the University of California in Berkeley, US.
"Decisions like demonetisation which removed 86 per cent of cash from circulation were done unilaterally, without asking the Chief Economic Advisor or the Cabinet or even Parliament, it (demonetisation) caused tremendous damage," he said. 
He said the November 8 decision was taken without asking the Chief Economic Advisor and Parliament, which caused tremendous damage to the economy. "Ignoring India's tremendous institutional knowledge and taking such decisions is reckless and dangerous."
"Millions of small businesses were simply wiped out as a result of the demonetisation, farmers and many who use cash were hit extremely hard. Agriculture is in deep distress and farmers suicides have skyrocketed across the country." 
Rahul is on a two-week visit to the US during which he will interact with global thinkers and political leaders, and address overseas Indians as part of an outreach initiative by his party. 
In his first engagement, Gandhi addressed the students of the prestigious University of California, Berkeley on 'India at 70: Reflections on the Path Forward'.
India's first Prime Minister and Gandhi's great grandfather Jawaharlal Nehru had once delivered a historic speech at the same university in 1949.
In his speech, Rahul attacked the Narendra Modi government saying that "violence, anger and the politics of polarisation have raised their ugly head in India, a development that is new to the country".
"The politics of polarization is very dangerous. Hatred, anger and violence can destroy us. Liberal journalists are being shot. People are being lynched, dalits are being killed over suspicions of carrying beef, Muslims are killed over suspicions of eating beef, all this is new in India," said Rahul.
'Hastily implemented' GST 
Rahul also attacked Modi for 'hastily implemented' Goods and Services Tax (GST) regime saying, along with demonetisation, the move caused "tremendous damage to the Indian economy".
"Government's economic policy of demonetisation and the hastily implemented GST has caused tremendous pressure on the economy," Gandhi said while addressing the students of the University of California in Berkeley.
Goods and Services Tax, a tax regime which combines all of India's states and union territories into a single market, was launched at midnight on June 30. 
On Congress' decline
In probably the first public admission by the Congress leadership on the issue of successive losses in polls that began with its descent from power at the Centre in 2014, Rahul Gandhi on Tuesday said that there was lack of communication between the party and the people of India around 2012 as "arrogance crept" into the organisation. 
"Around 2012, arrogance crept into Congress party and we stopped having conversations with people," the Congress leader said in response to a question at an event at the University of California in Berkeley, US. 
"For rebuilding the party, we need to design a vision that we can use moving forward. Most of what the BJP is doing, is what we once said," Gandhi said citing the examples of UPA government schemes MNREGA (Mahatma Gandhi Rural Employment Gurantee Scheme) and GST.
"The core architecture of the BJP-schemes are ours (Congress')," he said.
Dynastic politics
Rahul also defended the allegation that he is a product of dynastic politics saying "most of the country runs like this" and it was unfair to target him individually. 
"Most of the country runs like this, so don't go after me, Akhilesh Yadav (Samajwadi Party chief and son of Mulayam Singh Yadav) is a dynast, Mr Stalin (Working President of DMK and son of M Karunanidhi) is a dynast, Mr Dhumal's son (Prem Kumar Dhumal' son Anurag Thakur, a BJP MP) is a dynast," he said. 
"Even Mr. Abhishek Bachchan is a dynast, also Mr Ambani (Mukesh and Anil Ambani), that's how entire country is running," he added. 
Jammu and Kashmir 
Accusing Modi for opening the space for terrorism in Jammu and Kashmir, the Congress leader said: "When we started, terrorism was rampant in Kashmir. And when we finished by 2013, we basically broke the back of terror, I hugged (then) Prime Minister Manmohan Singh and told him it was one of the biggest achievements." 
He also referred to the role of the People's Democratic Party (PDP) which is in power with the BJP as its alliance partner in the state, and said, "PDP was instrumental in bringing youngsters in politics, but the day Modi made alliance with PDP, he destroyed them (PDP)."
"So he (Modi) massively opened up space for the terrorists in Kashmir, and you saw the increase in violence," he added.
He said for nine years he has worked behind the scenes with Manmohan Singh, former Finance Minister P. Chidambaram, former union Minister Jairam Ramesh and others on the issue of Jammu and Kashmir.
Cow vigilantism, mob lynching 
Slamming the Bharatiya Janata Party-led central government for the incidents of mob lynching and cow vigilantism that unleashed violence, Gandhi said, "I understand what violence does, violence against anybody is wrong."
"Hatred, anger and violence can destroy us, the politics of polarisation is dangerous," he said, adding that liberal journalists are being shot (referring to Kannada journalist-activist Gauri Lankesh's murder), people are being lynched. 
"These incidents are making millions feel that they have no future in their country," Gandhi added. 
He also said that the "idea of non-violence or 'ahimsa' is what has allowed this mass of people (India) to rise together and it is the only idea which can take humanity forward".
"I lost my father, my grandmother to violence, if I don't understand violence then who will?" he asked referring to the the assassination of his grandmother Indira Gandhi and his father Rajiv Gandhi. 
Jobs
The Congress leader also spoke about why it is extremely important to create jobs in India. He said 30,000 new youngsters were joining the job market every single day and the government was only creating 500 jobs a day. 
India, the Congress leader said, cannot afford to grow and create jobs at the current rate. 
"If we continue at the current rate, if India cannot give the millions of people entering the job market employment, anger will increase and it has the potential to derail what has been built so far. That would be catastrophic for India and the world beyond," Gandhi warned. 
The Congress vice president said that the central challenge for the country today is creating jobs. 
Noting that roughly 12 million young people join the Indian job market every year with nearly 90 per cent of them having a high school education or less, Gandhi said India, being a democratic country, cannot follow the Chinese model of coercion. 
"Unlike China it has to create jobs in a democratic environment," he said, adding that India does not "want China's coercive" instruments. 
"We cannot follow the model of massive factories controlled by a few," Gandhi said. 
Jobs in India, he said, are going to come in from small and medium scale industry. 
India, he asserted, needs to turn colossal numbers of small and medium businesses into international companies. 
1984 riots
During a Question and Answer session, when asked why were politicians like Jagdish Tytler and Sajjan Kumar, named in the 1984 anti-Sikh riots being shielded by the party, Gandhi said: "Violence against anybody is wrong, and I condemn it, I absolutely love the (Sikh) community. If there's anything I can do to help them get justice I'll be the first person to do so..."
Senior Congress leader Shashi Tharoor, who was present in the audience during Gandhi's speech, later tweeted: "A speech marked by acuity and passion, and a discussion infused with candour and insight."
'Modi a better communicator' 
Gandhi at the same time also acknowledged that Prime Minister Narendra Modi is a better communicator than him. "I'm an opposition leader. But Mr Modi is also my prime minister. Mr Modi has certain skills. He's a very good communicator. Probably much better than me. He understands how to give a message to three or four different groups in a crowd. So his messaging abilities very subtle and very effective," Gandhi said. 
He was responding to a question on what does he think about Modi as the prime minister.
"What I sense is that he doesn't converse with the people he works with. Even members of Parliament of the BJP come to me and tell me that 'sunte nahi hain' (he does not listen to us)," Gandhi added. 
He said Modi must speak to the people who work with him. "I mean there is a lot of information that the opposition for example has. He is not really interested in that input. So that is what has been going on," he said. 
Gandhi described Modi's flagship policies like 'Make in India' and 'Swachh Bharat' as a good idea. 
"On what they have done well? What I like? I like the concept of 'Make in India'. But the orientation of 'Make in India' is slightly different than what I would. So, the orientation of Make in India is big business and a lot of it is defence.My orientation of 'Make in India' would be small and medium businesses," he said. 
Gandhi said he would like to carve out space for small and medium businesses and bring in experts from Silicon Valley and take these small and medium businesses and transforming them into global companies. 
"Swachh Bharat is something that Mr Modi likes. The idea of hygiene I think is a good one. And I think I think the sort of stuff that they are doing on open defecation is not a bad thing," Gandhi said. 
On being reluctant politician 
The Congress vice president said the impression that he was a reluctant politician was a result of the campaign against him by the other political camp.
"There is a BJP machine about a thousand guys sitting on computers that basically tell you about me," he said as the audience burst into laughter. 
"They tell you, I am reluctant, I'm stupid. They tell you all these things," he said amidst another round of laughter and applause. 
"All they do is spread abuse about it. And the operation is basically run by the gentleman who is running our country," Gandhi said. 
Political reform needed
Responding to a question, Gandhi said the country needs political reform. 
"Administrative reform is important. But much more important than administrative report is actually political reform. Today, the real problem in India is that our political machine.. they are not empowered the way they should be... The laws in India are made by the ministers and five or six people surrounding the minister. 
"And until you make that process transparent and out into the open, you are not really going to transform the system," he said. 
He said the lawmakers who should be formulating policies are today more worried about building roads. 
"Today our MPs don't make laws. They are worried about building roads in villages. And they get punished for not building roads in villages. They should be making laws. They should be empowered to make laws. That's their job. And that is the fundamental thing that has this gone wrong in India," he said. 
Another Rahul gaffe
While answering a question at the event, Rahul Gandhi got the number of seats in the Lok Sabha wrong.
Rahul said the number of seats in the Lok Sabha was 546 while the actual number of members in the Lower House of the Parliament is 545 (543 elected + 2 nominated members from the Anglo-Indian Community).