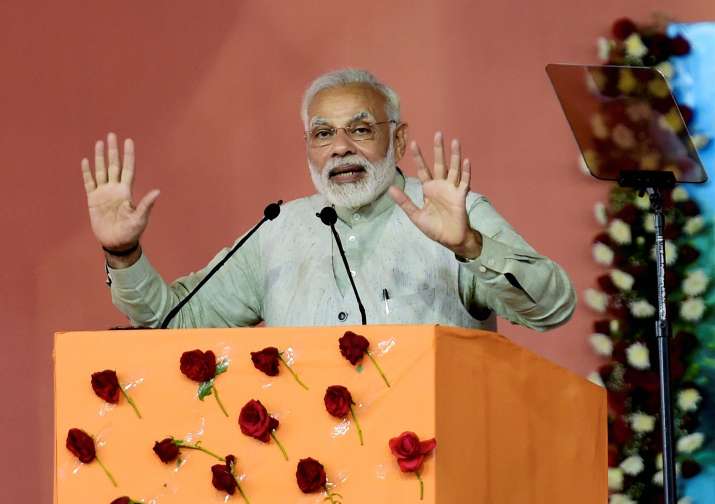 Prime Minister Narendra Modi on Sunday slammed the Congress over former finance minister and party leader P Chidambaram's remarks on autonomy for Jammu and Kashmir. 
Addressing a rally in Congress-ruled Karnataka's Bengaluru, PM Modi said that Congress batting for greater autonomy in Jammu and Kashmir was an insult to the bravery and sacrifice of soldiers in the Valley. 
He said that the Congress leaders are "shamelessly speaking in the same language as separatists in Kashmir and elements in Pakistan". 
"Why are Congress leaders lending their voice to those who want Azaadi in Kashmir? This is an insult to our brave soldiers," said PM Modi. 
"Yesterday's statement of a Congress leader on Kashmir clearly shows how the party feels on surgical strikes and bravery of our Army," he added. 
PM Modi said that after the many electoral defeats, Congress leaders would help bring the party back on track. "But in one incident after another, I am seeing irresponsible behaviour (from the Congress)," he said.
Yesterday, Chidambaram had pitched for greater autonomy for Jammu and Kashmir, saying his interactions with people had led him to conclude that "when Kashmiris ask for azadi, mostly, I am not saying all... the overwhelming majority... want autonomy."
After the remark drew severe criticism from the BJP, the Congress had fielded its chief spokesperson Randeep Singh Surjewala to distance the party from Chidambaram's statement. 
"An opinion of an individual is not necessarily the opinion of the party," Mr Surjewala said.
PM Modi also accused the Congress of backing the separatists' line and trying to gain political mileage by making statements which insult soldiers. 
"Congress is shamelessly speaking in the language of separatist forces in Kashmir, which is being spoken in Pakistan. Can these people, who base their politics on the ultimate sacrifice of our soldiers, ever contribute to the country's welfare?" he said. 
PM Modi inugurates Bidar-Kalaburagi railway line 
dedicated the 110 km railway track from Bidar to Kalaburgi in Karnataka, which will reduce distance from Bengaluru to New Delhi and upcountry destinations by 380km and save 6-8 hours of travelling time.
The new track, laid over 16 years, was originally estimated to cost Rs 370 crore but escalated to Rs 1,542 crore. 
The Prime Minister also flagged off the first train on the new line from Bidar station to Kalaburgi in the presence of Railway Minister Piyush Goel, Governor Vajubhai R Vala, Chief Minister Siddaramaiah and Union Ministers from the state Ananth Kumar and Sadananda Gowda.
The diesel-electric multiple train (DEMU) local service will cover the 110km between Bidar and Kalaburgi in two hours with brief halts at 12 stations en route.
Though the foundation stone for the project was laid in 1996 when Janata Dal-Secular supremo H.D. Deve Gowda from the state was the Prime Minister of a coalition government, construction began only in 2000 under the BJP-led NDA government and the railways took 16 years to complete it.
Which 'hand' reduced Re 1 of government money to 15 paise?: PM Modi takes on Congress
PM Modi was on a day-long visit to Congress-ruled Karnataka to attend various public functions. He visited Dharmasthala and nearby Ujjire, where he distributed Rupay cards and launched the 'Digitised SHG (self-help group) Member Transaction' and 'Preserve Mother Earth' campaigns. 
Addressing a public rally in Ujjire, PM Modi launched a veiled but scathing attack on the Congress over corruption in development funds, asking which was the "hand" that reduced every rupee of government money to 15 paise before it reached the beneficiary.. 
Modi also took a dig at the opposition for its criticism of demonetisation aimed at making the economy less dependent on cash, saying even parents limit cash given to their children because it spoils them.
Without naming Rajiv Gandhi, Modi recalled that a former Prime Minister had said that from every rupee sanctioned by the government, only 15 paise reached its beneficiary in a village. 
"One of the Prime Ministers had said every rupee is reduced to 15 paise when it reaches a village after getting sanctioned from Delhi. Which 'hand' reduces the rupee?" he asked, in a sarcastic reference to the Congress election symbol.
 
He said this was not the case with his government that was committed to devote every rupee and every resource for the welfare of Indians so that fruits of development reached the beneficiaries without any scope of corruption.
Modi said cash currency had always been changing from stone coins, rubber coins, gold and silver coins in the economic history of the world and now it was the time for digital currency in the world. "India cannot lag behind." 
Beginning his address in Kannada, the Prime Minister, at the event organised by the charitable trust of the Sri Kshetra Dharmastala Rural Development Project, gave away RuPay cards to the Self Help Groups enrolled for Pradhan Mantri Jan Dhan Yojana and launched their digitised cashless transactions.
He said such self-help groups, who have pledged to conduct their businesses cashlessly, have answered all those who spoke against demonetisation, questioning how was it possible to become cashless in a country where the poor and less literate have no digital connectivity.
"But today, you have answered them. Aren't our women in rural areas educated? Twelve lakh people have pledged to make their businesses cashless. When your intentions are good, even obstacles can speed up your work. You have sown the seeds of digital India, less-cash society. I congratulate you," Modi said.
"Even parents limit cash to their children because they think it will spoil them. That is why self-accountability is very important."
He urged people to use Bhim App and embrace cashless transactions in the "era of honesty and integrity" where there "is no place for those who cheat the system".
The Prime Minister urged farmers to conserve water and work with the motto "one drop, more crop".
"By 2022, when India will celebrate 75 years of independence, can all the farmers take a pledge to cut down the urea use by 50 per cent? It will be a great service to the earth and will save farmers' money."